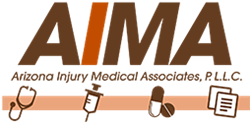 For over a decade, Dr. Adarmes at Arizona Injury Medical Associates PLLC has been offering second opinions to help patients receive the best care!
Phoenix, Arizona (PRWEB) September 01, 2016
Arizona Injury Medical Associates PLLC is now offering second opinions for all individuals suffering with an injury under a workers' compensation claim. Often times, the evaluation provides exceptional insight into the patient's condition and helps with treatment outcomes. Call (480) 347-0941 for more information and to schedule with the top AZ and Federal worker's compensation medical practice.
Dr. Demitri Adarmes is the Double Board Certified provider at Arizona Injury Medical Associates PLLC. He offers both medical and interventional pain management, with the vast majority of patients avoiding surgery and getting back to substantial work.
For second opinions, Dr. Adarmes performs a comprehensive evaluation in order to render an opinion. Dr. Adarmes has treated injured workers in several states for over 10 years. He currently accepts claims from over a dozen states and is an expert in both medical treatment along with the administrative paperwork. He is also a provider for federal workers compensation patients (OWCP/Department of Labor) and understands the complexities of evaluating and treating patients within the OWCP system.
Over twenty treatment options are available at the practice, and Dr. Adarmes also will provide a thorough summary of the second opinion consultation for each patient. Federal workers' compensation patients often include workers from the FBI, DOJ, Border Patrol, TSA and other government agencies.
To schedule a second opinion for either a Federal or Arizona workers' compensation claim, simply call the practice at (480) 347-0941.