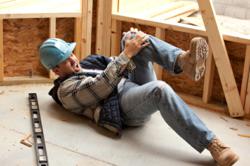 This creates a dangerous situation for injured workers who risk losing the benefits and protection they deserve.
St. Louis, MO (PRWEB) March 19, 2012
In 2005 a woman had a Missouri workers compensation claim for an ankle injury sustained at work. Her employer, emboldened by the new amendments to the Compensation Act, claimed her ankle was sprained and ordered her back to work. Meanwhile, the St. Louis Workers Compensation lawyer James M. Hoffmann continued to fight for her due compensation in court. Eventually, the woman was diagnosed with ligament instability that required surgery and disabled her for life. Attorney Hoffmann recently won a settlement for the woman totaling over $750,000, which will protect her and her family for the rest of her life.
James M. Hoffmann handles cases like this one on a daily basis, and is skilled at protecting the rights of employees who are in danger of losing everything due to injury. Injured employees are often scared and intimidated in these situations, and rarely know what kind of compensation they're owed. That is why James M. Hoffmann has expanded his website reach - to help provide answers and a sense of comfort to those injured workers in need of help. In his time as an attorney, James M. Hoffmann has won over $22 million dollars for injured workers across Missouri.
Missouri Workers compensation can be a trying, terrifying, and expensive proposition for any worker injured on the job. Changes to the Workers' Compensation Act in 2005 have created a dangerous maze of potential setbacks for injured workers throughout the state. To better help those faced with this desperate situation, attorney James M. Hoffmann has expanded his website outreach to include new Facebook and Twitter feeds.
Understanding Missouri Workers Compensation
The dangers to injured workers today are, unfortunately, very real. For eighty years working employees in Missouri were guaranteed compensation for work-related injuries under the Missouri Workers' Compensation Act. This Act protected workers and their families from unsafe working conditions and a lack of compensation by guaranteeing repayment without a strict burden of proof on the part of the employee. The employer was also protected by the Act by preventing compensated workers from pursuing larger cash settlements in common law court.
However, amendments to this Act in 2005 significantly altered the ability of an injured employee to seek compensation for certain types of injuries. These amendments also alter some of the language of the original Act (particularly the definition of the word "accident"), forcing further burden of proof on an injured employee before they can receive any compensation.
These changes in the original Act caused several labor organizations to file suit against the Department of Labor and Industrial Relations (DOLIR). The labor organizations argued that the amendments barred some employees from pursuing due compensation. Meanwhile, the DOLIR argued that it had the power to alter the Act at will.
The case went to the Missouri Supreme Court. The judges presiding over the case decided that the amendments did indeed exclude certain injured employees from due compensation. In their ruling, they decided that the previous protection for employers to prevent common law compensation should not apply to these employees. This means that injured employees can now pursue other legal avenues to receive compensation.
In short, the 2005 amendments destabilize a compensation system that had remained in perfect balance for eighty years. The previous agreement between employers and their employees (employers will compensate employees fairly as long as employees agree to not sue in common law court) has been somewhat undone by the 2005 amendments and the subsequent ruling. This creates a dangerous situation for injured workers who risk losing the benefits and protection they deserve.
When the laws are changed to benefit employers, injured workers in Missouri need someone on their side. Visit James M. Hoffmann's website, workers compensation attorney blog, Facebook, and Twitter pages for more information on how you can better protect yourself and your family. For specific cases involving truck accidents the Law Office of James M. Hoffmann has created an additional truck accident lawyers St. Louis website as well.
Workers Comp Case Information:
EMPLOYEE: M. D.
EMPLOYER: Trans States Airlines
INSURED: Insurance Co. of the State of Pennsylvania AIG Claims
DATE OF INJURY: 12/20/02
INJURY NO.: 02-143782