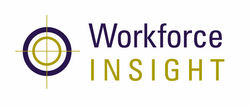 The APA Congress provides the ideal forum for HR and Payroll leaders to explore what they can and should expect from investments in WFM systems
Denver, CO (PRWEB) May 25, 2010
Workforce Insight, the leading provider of workforce management consulting and implementation services, announced that the firm will conduct two educational sessions, delivering workforce management best practices and insights at this week's American Payroll Association's (APA) 28th Annual Congress May 25-29 in Washington, D.C.
"The APA Congress provides the ideal forum for HR and Payroll leaders to explore what they can and should expect from investments in WFM systems," said Steve Goldman, CEO. "Whether seeking a timekeeping solution to better manage compliance, or searching for ways to make the workforce a more strategic asset, APA helps bridge the educational gap."
APA's Annual Congress will offer over 170 educational workshops at the world's largest payroll, accounts payable, and finance Expo at the Gaylord National Resort and Convention Center, May 25-29, 2010.
Workforce Insight's Workforce Management Consultants will deliver the following APA sessions:
DOL Audit: How Would You Stack Up? | May 28, 2009
Presented by: Jani Eager, Workforce Management Consultant (honored as a Featured Speaker)
(Co Presenters: U.S. Dept. of Labor, Wage and Hour Division - Deputy Regional Administrators)
This workshop reviews the DOL investigative process, self-audit strategies, and critical steps to identify and minimize exposure.
Attendees will also discover the most common and costly mistakes by exploring lessons learned through real-world examples. The session closes with a Q & A session to better arm attendees to proactively prepare for an audit, and strengthen their organizations' time and attendance policies and practices.
Time Theft: Identifying & Preventing It | May 28, 2009
Presented by: John West - Workforce Management Consultant
This session outlines the most common forms of time theft and provides practical, time-tested strategies to identify, eliminate, and prevent its occurrence. Participants will also learn creative ways to leverage technology.
At this year's event, Workforce Insight will be available at Booth # 821 to share insights and provide objective guidance for organizations seeking to acquire or improve the way they use timekeeping, scheduling and related workforce management systems. More information about the APA's Annual Congress is available at: americanpayroll.org/congress/
Other Recent/Upcoming Thought Leadership Sessions:
Workforce Insight is often interviewed by analyst firms and invited to provide insight, lead panel discussions and provide commentary on market trends impacting workforce management. The following list includes a sample of recent and upcoming sessions provided by Workforce Insight:
Healthcare Workforce Management
''Best Practice Labor Control Strategies for Hospitals''
Presenter: Ryan Wilson-Flores, MBA, LNFA - National Healthcare Strategist
Healthcare Financial Management Association | May 14, 2010
Retail Workforce Management
Presenter: Scott Knaul, Principal - Retail WFM
''Brave New World: How Social Media is Revolutionizing Workforce Management''
Exclusive Webinar Event hosted by RISNews
June 9, 2010 | 2 p.m. ET | Registration Open at RIS News
Retail WFM 2010 Conference
Multiple Presenters
Next Generation Retail Leadership Summit | July 22-23; July 29-30; August 5-6
New York | Columbus | Chicago | Dallas | San Francisco | Los Angeles
Registration Open at RetailWFM.com
Oil & Gas WFM 2010 Conference
Multiple Presenters
Oil & Gas Workforce Management Leadership Summit
Houston, Texas | September, 2010
About Workforce Insight, Inc.
Workforce Insight, Inc. is the leading provider of strategic workforce management consulting and implementation services, committed to helping global enterprises leverage technology to enhance and preserve their most valuable asset -- their people. Workforce Insight has been recognized in the workforce management marketplace as the difference between a standard that relies on technology alone and optimal results that are only achieved through the hands-on stewardship, insight and expertise of industry visionaries and consultants. For more information about Workforce Insight, call 800.394.5516 or visit Workforce Insight.
###