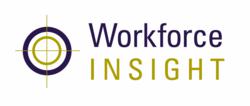 Denver, CO (PRWEB) January 17, 2012
Workforce Insight, the leading provider of workforce management consulting and implementation services, is revealing opportunities for retailers to better align workforce management strategies, with focus on two evolving disciplines: workforce analytics and cross-channel fulfillment. The firm is releasing a white paper on each of these topics at NRF to help retailers become more efficient and agile in meeting customer needs across multiple channels.
Workforce Insight's thought leadership incorporates findings from its annual Retail Workforce Management Benchmark Study, as well as collective insight and recommendations from seasoned retail strategists and workforce management experts.
The firm's retail workforce management consultants and industry experts will also be available in the expo area at Booth 1978 to provide insight to retailers at all stages of adoption. Both white papers are complimentary and will be made available to NRF attendees on-site. Alternately, retailers can download these papers from the firm's web site at: White Papers - Retail Workforce Management.
The White Paper titled "Leveraging WFM Analytics to Improve Labor Optimization" explores how retailers can gain actionable insight to improve labor optimization initiatives through the use of analytics and workforce management dashboards. "Adapting WFM to Drive Multi-Channel Success" explores barriers and opportunities for adapting workforce management systems and processes to achieve success with cross channel fulfillment.
Workforce Insight also announced the dates for its annual Retail WFM 2012 Conference - Workforce Management Leadership Summit, taking place in New York August 9 and San Diego August 23. NRF attendees have the option to pre-register for Retail WFM 2012 at the firm's booth or online at http://www.retailwfm.com.
About Workforce Insight, Inc.:
Workforce Insight, Inc. is the leading provider of strategic workforce management consulting and implementation services, committed to helping organizations leverage technology to enhance and preserve their most valuable asset -- their people. Workforce Insight has been recognized in the workforce management marketplace as the difference between a standard that relies on technology alone and optimal results that are only achieved through the hands-on stewardship, insight and expertise of industry visionaries and consultants. For more information about Workforce Insight, call 800.394.5516 or visit workforceinsight.com
###