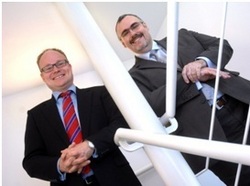 Winkel, Switzerland (Vocus) September 30, 2010
Corum Group International S.à.r.l. today announced the acquisition of 360 Scheduling Ltd ("360 Scheduling") by IFS AB.
Corum Group International S.à.r.l., the global leader in mergers and acquisition services specializing in serving software and information technology companies advised 360 Scheduling Ltd in the transaction out of its London, UK office.
360 Scheduling is focused on making sure that its clients' technicians are in the right place, at the right time, with the tools and material they need to maintain or repair the customers' critical equipment before it causes them pain. 360 Scheduling's technology is able to solve the largest and most complex of scheduling problems, computing optimal solutions in real-time and delivered as a rich thin client requiring zero client set-up. The latest release is fully implemented in the Cloud. The team has deep expertise in the field of Mobile Workforce management.
John Melotte, Director of Corum Group based in London, advised 360 Scheduling on this transaction. "360 Scheduling is a great business with tremendous potential. Our brief was to find a partner that could support the existing team as they turn world-beating technology in to a world-leading solution. IFS is that partner with the geographical presence and resources to allow 360 Scheduling to service clients across the world. The culture fit has been tremendous and the excellence of the solutions already offered by IFS will be well complemented by 360 Scheduling's products and expertise. The 360 team has been a pleasure to work with and I am delighted to have been able to contribute to this successful transaction."
The CEO of 360 Scheduling, Laurent Othacéhé, commented: "IFS, with its international presence, strong position in Service & Asset Management and customer focused culture is an ideal fit with 360 Scheduling. Being part of a large software group will help us accelerate our growth in many key strategic markets and strengthen our leadership position. The assistance we received for Corum in the acquisition process has been invaluable and absolutely key to a very successful transaction."
"With the acquisition of 360 Scheduling IFS can be seen to be executing on its stated strategy for growth and service excellence and doing so by growing in one of its primary target sectors. The Service & Asset industries, and especially mobile work force scheduling, is a market in which 360 Scheduling is one of the market leading and most respected supplier and where IFS seeks to achieve a market-leading position with its excellent customers and deep industry knowledge," Alastair Sorbie, IFS CEO said.
Fredrik Vom Hofe, SVP Business Development IFS AB
Laurent Othacéhé, CEO 360 Scheduling
About 360 Scheduling:
Headquartered in Nottingham, England, 360 Scheduling is the world's leading provider of mobile workforce scheduling. In addition to real-time route planning and enterprise-class optimisation, the 360 Dynamic Scheduling Engine offers predictive deployment capabilities, demand forecasting, performance analysis and resource profiling in a Service Oriented Architecture platform. The 360 Dynamic Scheduling Engine is the industry benchmark, which has been adopted by many vendors of Mobility and Service Management applications.
About IFS:
IFS is a public company founded in 1983 that develops, supplies, and implements IFS Applications™, a component-based extended ERP suite built on SOA technology. IFS focuses on agile businesses where any of four core processes are strategic: service & asset management, manufacturing, supply chain and projects. The company has 2,000 customers and is present in more than 50 countries with 2,700 employees in total. Net revenue in 2009 was SKr 2.6 billion.
About Corum Group:
Corum Group is the global leader in merger and acquisition services, specializing in serving software and information technology companies worldwide for nearly 25 years and with offices in eight countries. Experience makes the difference with Corum Group: its M&A advisors have completed 230 hundred software M&A transactions
across six continents; working with its clients through a proven business model. Corum also does much to educate the industry with its conferences and webinars and the industry's most widely distributed software and IT M&A research.
Contact (Europe): Tanya Fröhlich +41 43 888 7590
Contact (US): Pat Sultan +1 425 455 8281 x248
# # #