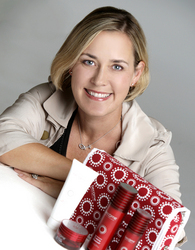 An astounding 9 out of 10 people who try become beauty anti-aging skin care products buy them.
Los Angeles, CA, USA and Melbourne, Australia (PRWEB) June 8, 2010
Australia's breakthrough direct selling company, become beauty is the fastest growing anti-aging skin care home based business opportunity in the United States and Australia. Their growing army of Independent Beauty Consultants are earning an average of $100-$150 per hour and showing women all over the country how to do the same. An astounding 9 out of 10 people who try become products buy them.
So, what is driving become beauty's success? President and Founder Stephanie White explains "I've spent the last 20 years studying success and this is what I know – get a goal and take action!" White, a native Australian who lives in Los Angeles continues, "I know that sounds obvious and it is – the genius is what do you do with that information?"
White's goal is for become to be a billion dollar business by 2020 and explains what sets become beauty apart from its competitors not only in direct selling but also in the skin care industry is duplicable systems. "We teach our customers an anti-aging system that takes 3 minutes and that will change their skin forever and we teach our Independent Beauty Consultants (Advisors) a success system that increases their income immediately". Most people whom join become beauty do not know a lot about skin care or running a business. White's unique success system has the answers and gets results – whether it is less wrinkles or more wealth.
As this economy sets in more people are looking for financial security, especially moms who want to stay home with their children. Independent Advisor Jennifer Goodrich in Pittsburgh, PA says "I joined become because I wanted the freedom to stay at home with my kids but I still needed to contribute to our family's income. Now I set my own work hours and my become income is so much more than when I was a full time teacher!"
With a recently re-launched website - http://www.becomebeauty.com - it is easy to get your hands on become's products and home based business opportunity. Becomebeauty.com has a link for a free sample pack of six products so you can try before you buy. Customer Diane Stafford, CA says "I tried the sample and knew immediately this was something different. This is the only line that has delivered on its promise and changed my skin – it's remarkable".
To learn more about become beauty today please go to http://www.becomebeauty.com. To hear more about become's home based business opportunity please go to http://www.behometoday.com.
###