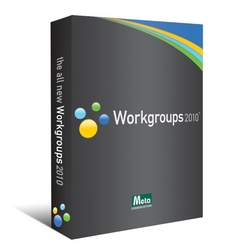 Apple's iPhone has become an essential platform for business productivity software
Iowa City, IA (PRWEB) September 24, 2009
MetaCommunications today announced its new Workgroups 2010 suite with integrated desktop support for Mac OS X Snow Leopard and support for Apple's latest mobile platform, the iPhone 3GS. Workgroups 2010 is the latest release of MetaCommunications' flagship product for project & workflow management, document review & approval, document storage management, and financial productivity management for creative professionals in marketing, design, packaging, print and prepress workgroups around the world.
The Workgroups 2010 suite has an integrated desktop footprint on Snow Leopard that provides users with quick and convenient access to Workgroups 2010 functionality directly from the Mac OS X Finder and from other desktop tools users work with throughout the day, including Adobe's Creative Suite and QuarkXPress. Integrated iPhone support enables anyone with an iPhone to participate in document/graphic reviews, including real-time collaboration with other users.
"Apple's iPhone has become an essential platform for business productivity software," said Robert T. Long, Executive Vice President of MetaCommunications. "But the real story is not about platform, it's about providing transparent ways for users to stay engaged, regardless of where they are. This is the story behind iPhone, and it's the capability built in to Workgroups 2010."
About Workgroups 2010
The Workgroups 2010 suite is a tightly integrated collaborative process and productivity management suite for marketing, creative design, packaging and prepress. Workgroups 2010 is comprised of four key modules (Virtual Ticket, Approval Manager, Digital Storage Manager, and Job Manager) and provides an open and flexible solution so that users can adopt the modules of the suite that meet their initial needs while retaining the ability to easily expand the solution later.
Pricing and Availability
The Workgroups 2010 suite is available immediately. Free upgrades are provided to customers who participate in the Meta Assurance support and upgrade program. New systems are priced affordably, with complete multi-user suite bundles starting at $4,995. Individual modules may also be purchased, starting at $1,695. See the Purchase page for details.
About MetaCommunications
MetaCommunications develops workflow and collaborative productivity solutions that help marketing, creative design, packaging and prepress workgroups around the world be more productive. With over 1000 customer sites worldwide, MetaCommunications has the solid experience and range of solutions to quickly help creative organizations take their productivity to the next level through improved processes, workflows, and communications. For more information about MetaCommunications, please visit MetaCommunications Website.
Press Contact
Robert T. Long
Executive Vice President
MetaCommunications, Inc.
Phone: (319) 337-8599 ext 180
Email: blong (at) meta-comm (dot) com
###