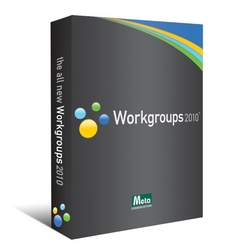 With InDesign and InCopy, Adobe provides some basic tools for editorial and design collaboration right out of the box
Iowa City, IA (PRWEB) December 9, 2009
MetaCommunications today announced the immediate release and availability of Workgroups 2010 with built-in support for improved Adobe InDesign and InCopy CS4 collaborative publishing workflows.
"With InDesign and InCopy, Adobe provides some basic tools for editorial and design collaboration right out of the box," said Robert T. Long, Executive Vice President of MetaCommunications. "We extend and enhance these capabilities by wrapping their capabilities into a more robust suite of publishing workflow and collaboration tools that truly allows teams to work together and stay in sync across multiple projects and rapidly changing environments."
The new support extends the capabilities of the native Adobe CS4 collaborative publishing workflows in several key ways:

Integrated support for multiple parallel publishing workflows and projects
Automatic email notifications, alerts, and reminders to keep everyone up-to-date and production documents out of email
Automatic and manual routing of assignments and tasks
Support for document versioning
Timelines, due-dates, and scheduling for all tasks and activities
Built in collaborative review and approval workflows for production and finished content
Trafficking and scheduling of design, copy, and editorial content in publishing, web design, and other creative workflows
Web dashboards for managers, designers, editors, copywriters, etc... provide each user with an immediate understanding of all their responsibilities across all their projects
Availability:
Workgroups 2010 with built-in support for Adobe CS4 Collaborative Publishing Workflows is available for immediate download from the MetaCommunications website.
Demonstrations:
Persons interested in learning more about enhanced Adobe CS4 collaborative publishing workflows can sign up for a free webinar and discussion.
About Workgroups 2010:
Workgroups 2010 is a tightly integrated collaborative process and productivity management suite for marketing, advertising, creative design, packaging and prepress. It is comprised of four key modules: Virtual Ticket, Approval Manager, Digital Storage Manager, and Job Manager. Workgroups 2010 is available for installation in-house or hosted online through Workgroups.com.
About MetaCommunications:
MetaCommunications develops workflow and collaborative productivity solutions that help marketing, advertising, creative design, publishing, packaging and prepress workgroups around the world be more productive. With over 1000 customer sites worldwide, MetaCommunications has the solid experience and range of solutions to quickly help creative organizations take their productivity to the next level through improved processes, workflows, and communications. For more information about MetaCommunications, please visit http://www.meta-comm.com.
Press Contact:
Robert T. Long
Executive Vice President
MetaCommunications
Phone: (319)337-8599 ext 180
Fax: (319) 337-3635
Web: http://www.meta-comm.com
Email: blong(at)meta-comm(dot)com
###