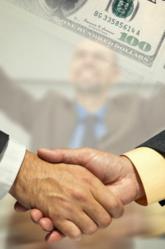 (Vocus/PRWEB) March 29, 2011
Compound Profit is dedicated to helping the American small business owners through its educational program, as well as helping them get working capital through its financing programs. By using unsecured credit lines, the latest addition to its financing options, Compound Profit can now offer the company owners access to cash by using a flexible financial instrument, thus allowing them to have permanent access to a reliable funding source without paying any interest until they are actually using the money.
With Unsecured Business Financing credit lines, the business owners don't have to provide any income proof or other documents in order to prove their financial strength. The success of the application is only based on the clients' credit history; a FICA score of 650 or better is a good enough guarantee. The entire process takes only a few weeks and can provide credit lines of up to $150,000 – even for startups!
According to Mr. James Penny, founder, president and CEO of Compound Profit, "many American entrepreneurs start a small business thinking that they will be able to fund it either by using their own financial resources, or by getting a loan from a bank. Sadly, the traditional lenders have made it harder and harder for the small business owners to get financing, and the results are very clear: according to a recent study, the amount of money that was lent to the small businesses has decreased by over 6% in 2010. It was about time somebody did something to help the small business owners, the backbone of the American economy, and I'm honored to be the leader of the team that has engineered our custom, unsecured business financing solution".
Unsecured business lines of credit are the perfect financing solutions for a great variety of short-term or ongoing financing needs, such as getting access to seasonal working capital, purchasing more goods, materials and equipment, improving cash flow, and so on. In addition to this, through the usage of Unsecured Business Financing, the small business owners also build business credit, thus increasing their chances to get access to larger and larger credit lines as their companies grow.
Compound Profit offers working capital, medical factoring, invoice and purchase order factoring, as well as equipment leasing to the small business owners, while its highly trained Profit Advisors help the American entrepreneurs reduce costs and increase their profits significantly - for free! Compound Profit was launched in Texas, but now it has expanded throughout the entire U.S.A. and operates as a successful factoring franchise. For more information, visit http://www.cprofit.com.
# # #