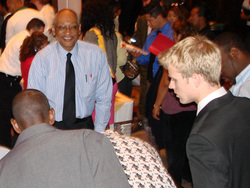 Working World is part of the Los Angeles community. By hosting this job fair, we are doing our part to chisel away at the local 13 percent unemployment rate.
Los Angeles, CA (PRWEB) March 29, 2010
Working World magazine, a Los Angeles-based small business, is hosting its semi-annual Career Fair on Thursday, April 29, 2010, at the Hollywood Renaissance Hotel, 1755 N. Highland Avenue, Los Angeles, CA 90028. This free event will take place from 1:00 to 4:00 pm. To educate and inspire attendees, career-focus seminars will be presented all afternoon, with the early bird seminar, "Getting a Job in Today's Tough Job Market," starting at 12:15 pm.
The company chose the theme "Putting Los Angeles to Work" because it wants to help chisel away at the 13 percent local unemployment rate. "We are an advocate for the working people of Los Angeles," says Catherine Rhodes, founding entrepreneur. "At no cost to workers, they can meet face to face with recruiters and take the first step towards finding employment."
Companies that will be recruiting staff include: Big 5 Sporting Goods, CHP, California Hospital Medical Center, City of L.A. Community Development, Colonial Life, Donor Services, Glendale Memorial Hospital, L.A. County Sherriff's Medical Dept., LAPD, Los Robles Hospital, Prudential, Riverside Community Hospital, Sears, Securitas, Metropolitan Water District, Time Warner Cable, West Hills Hospital, Zenith Insurance, and many more.
High-energy career-focus seminars include "Elevator Speech — You Need One," by Dianne Gubin at 1:15 pm; "Jobs in Healthcare: Hottest Careers of the New Millennium," by Robbie Gluckson at 2:15 pm; and, "The Top 5 Interviewing Mistakes and What to Do Instead," by Leila Bulling Towne at 3:15 pm. Each seminar is 45 minutes long and takes place in the room adjacent to the Career Fair.
The event is free and open to the public. Business attire required.
Working World is a Los Angeles-based job opportunities magazine and website. The magazine was founded in 1988 in Ms. Rhodes's studio apartment. It is published 19 times per year and distributed free to a network of red newsracks throughout greater Los Angeles. The website features job postings, vocational career listings and an archive of career-related articles. Working World has hosted two Career Fairs each year for the past decade.
###