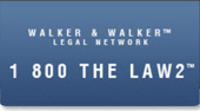 It's bad enough that so many people in our community are out of work. What's worse is that I see so many cases of injured workers who kept working, often to their own detriment, for fear of losing their job for filing a necessary workers' compensation case
Los Angeles, CA (PRWEB) March 4, 2009 -
L.A. County's jobless rate soared in December from 8.9 to 9.9 percent in one month's time, according to the Los Angeles Business Journal. That is the highest level in 15 years.
This disheartening news comes as no shock to the approximately 475,000 residents who were unemployed in December 2008, that's up 82% from 2007. So what can workers who still have jobs do to protect themselves if they've been injured? The attorney members of 1-800-THE-LAW2 suggest reporting work injuries right away so it's documented properly.
1-800-THE-LAW2 (800) 843-5292 has been helping injured workers protect their jobs and get fair compensation for injuries since 1985. As a public service, 1-800-THE-LAW2 urges anyone who is injured on the job to report his or her injuries immediately. That includes machine related work accidents, injury because of a repetitive motion, or if you got into an auto accident while driving for work such as a delivery driver or sales person. This is because it is illegal in the state of California to be fired for reporting a work injury and/or for filing a workers' compensation claim. Unfortunately, many Californians are unaware of the protections this law affords them.
While the economy is suffering and thousands of unemployed workers are struggling to find jobs, 1-800-THE-LAW2 (800) 843-5292 has a strong network of attorneys throughout Southern California dedicated to helping injured workers recover their losses and get back on their feet without having to worry about getting fired. In fact, reporting a work injury to an attorney is often the best way to document the case and prevent an employer from terminating the employee for filing a workers' compensation claim.
"It's bad enough that so many people in our community are out of work. What's worse is that I see so many cases of injured workers who kept working, often to their own detriment, for fear of losing their job for filing a necessary workers' compensation case," said Maryann Walker, Founder of the Walker & Walker Legal Network at 1-800-THE-LAW2 (800) 843-5292. For more free information about work accidents in California please visit 1800thelaw2.com now.
About 1-800-THE-LAW2
1-800-The-Law2 (800) 843-5292, is a group of independent attorneys who specialize in personal injury, workers' compensation, work injury claims, catastrophic injury, slip and fall, loan modification and mass tort cases. With no out-of-pocket cost to the client, these legal professionals joined together to advertise their services and help those who could not otherwise obtain an attorney. For free information from a specialized workers' compensation attorney, please log onto 1800thelaw2.com now.
###