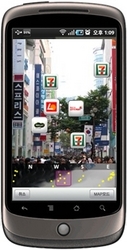 New York, NY (PRWEB) March 30, 2011
Lotte Card, one of the largest credit card companies in Korea with more than a million customers, has extended a breakthrough mobile application allowing card members to find reward program retail locations via augmented reality, redeem mobile coupons and access credit card information on their Android and iPhone smartphones. The application was developed using the WorkLight Mobile Platform.
The Lotte credit card application delivers a rich and engaging user experience with over 100 screens, location-based features and scannable mobile coupons. Lotte's app incorporates augmented reality into the application – a first in the region – showing reward partners' retail locations on the device based on the customer's location at that moment. The application also provides Lotte card holders with access to credit card information, including recent transactions and payment history.
Developed in just two months with FAS, a leader in providing IT solutions for large enterprises in Korea and Japan, the rapid yet intricate process included migrating native elements of an existing application as part of a comprehensive cross-platform development effort of apps for Android and iOS devices. Lotte is also considering extending apps to tablet computers.
Creation and deployment of the Lotte awards app was made easier with the WorkLight platform, which affords unique developer productivity features. Using WorkLight, developers were able to combine native and web coding within the same IDE and develop concurrently using WorkLight's HTML file fragment approach. Among the native elements integrated into the app are a virtual keypad and a secure encryption module. The WorkLight platform employs standard web technologies in an open development approach, which means much of the code can be re-used across different devices while application look and feel can be easily optimized for additional devices. This streamlines the development process, thereby speeding the time to market and maximizing efficiency in terms of resources and investment.
"We're proud to provide our customers with a unique mobile application that has already generated significant volume of customer downloads and positive feedback," said ChangNam Kang, IT Planning Director, Lotte Card. "We chose the WorkLight platform because it was the best technology for Lotte to consolidate application development, enhancement and maintenance, while ensuring cost savings and timely delivery to our customers."
"Lotte and FAS have created one of the most advanced financial mobile apps in the region," said Shahar Kaminitz, CEO of WorkLight. "To deliver truly exceptional mobile applications, companies must prioritize technologies that are open and flexible, and can meet customer expectations for different devices efficiently without compromising on quality or richness of the user experience. That is the WorkLight approach."
The WorkLight Mobile Platform is a robust, enterprise-grade infrastructure that enables development, integration and management of rich mobile applications. The platform consists of the WorkLight Studio, a multiplatform IDE for native, web and hybrid development; the WorkLight Server for secure delivery, deployment and back-end integration; and the WorkLight Console for ongoing management and dynamic control for applications and infrastructure.
About Lotte Card Company
Lotte Card Co, Ltd. is one of Korea's major credit card companies with more than a million customers. Lotte Card was established in 2003 and is headquartered in Seoul, Korea. Its parent company, Lotte Group, is a South Korean conglomerate established in 1948, with over 60 business units and employing 60,000 people.
About Finance All Solutions
Finance All Solutions, Ltd., an affiliate of SBI Group, is a leader in providing IT solutions for financial and other organizations in Korea and Japan. Finance All Solutions was established in 2004 and is funded by SBI Holdings. The company website is http://www.fasol.co.kr/english/index.php.
About WorkLight – Extend Your Business™
WorkLight is a leading mobile application platform that enables organizations to create, run and manage rich applications for smartphones, tablets and other environments with the highest levels of developer productivity, enterprise delivery and dynamic control. Many of the world's largest companies rely on WorkLight to provide optimal user experiences across more devices while radically reducing time to market, development cost and ongoing maintenance effort. For more, visit http://www.worklight.com.
# # #