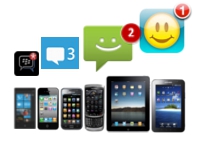 New York, NY (PRWEB) December 08, 2011
Worklight, the leading HTML5, hybrid and native mobile app platform for smartphones and tablets, is hosting a free webinar to address the challenges of enabling mobile push notifications in smartphone and tablet applications. The webinar will also introduce the Worklight Unified Push Notifications Framework for iOS and Android devices.
"Companies are increasingly striving to reach their users via mobile applications beyond the traditional confines of the app, specifically through push notifications," said Amit Ben-Sheffer, Director of Product Management at Worklight. "However, cross-platform challenges and the innate differences between mobile operating systems make it extremely complex and cost-prohibitive to reliably support such infrastructure without a mobile app platform solution. In this webinar we will explore some of the factors affecting such enterprise mobile initiatives today."
Join Worklight for a discussion on the following topics:

Device-specific push notification mechanisms, regulations and restrictions
Delivery, performance and availability challenges in enabling Push for iOS and Android operating systems
Capabilities and benefits of the Worklight Unified Push Notifications Framework
Implementation for native and HTML5 hybrid applications
Use cases and industry-specific scenarios
Register now at https://www1.gotomeeting.com/register/999050736.
Webinar: How to Enable Unified Push Notifications in Native and HTML5 Hybrid Mobile Apps
Date: Tuesday, December 13, 2011
Time: 11:30 p.m. EDT | 8:30PM PDT
The Worklight Mobile Platform enables companies to develop, run and manage HTML5, hybrid and native apps for smartphones and tablets. It consists of the Worklight Studio, a multi-platform IDE for flexible development; the Worklight Server for secure delivery and backend integration; the Worklight Console for ongoing management and dynamic control of applications and infrastructure; and the Worklight Device Runtime for accessing native device functionality, UI features, and other runtime application services.
About Worklight
Worklight is the most open and advanced mobile application platform and tools software for smartphones and tablets. Our award-winning products help organizations of all sizes efficiently develop and deliver HTML5, hybrid and native applications with a powerful and flexible mobile IDE, next-generation mobile middleware, end-to-end security and integrated management and analytics. Worklight dramatically reduces time to market, cost and complexity while enabling better customer and employee user experiences across more devices. To download a free 30-day fully-featured version of the Worklight Mobile Platform, please visit http://www.worklight.com/download.
# # #