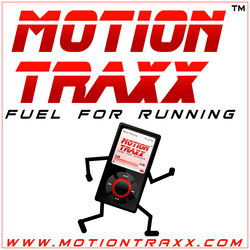 Motion Traxx works on two levels
New York, NY (PRWEB) January 28, 2009
One of the country's leading specialists in workout music, Deekron 'The Fitness DJ', has launched a new fitness music podcast called Motion Traxx. The podcast is free to subscribers, and provides runners and fitness enthusiasts with high-energy, steady-tempo music to keep them motivated and on track with their fitness goals this year.
Its tagline, 'Fuel For Running', Motion Traxx features hour-long episodes of seamlessly mixed, upbeat dance music. The fast, steady tempos of the music are ideal for setting the pace of a run. In addition, fun, energizing dance tracks provide sustained motivation, which makes Motion Traxx great for many types of exercise or activities. Motion Traxx keeps many workouts 'in motion.'
"Motion Traxx works on two levels," Deekron 'The Fitness DJ' said. "On one level, it provides a consistent pace for a run or workout. On another level, though, it encourages and stimulates. Very simply, it makes running and exercising more effective and fun."
If anyone would know about motivating someone for a workout, it's Deekron 'The Fitness DJ.' Since 2006, he has been providing music to Group Fitness Instructors via his fitness label RockitWave8. His music has been used by thousands of instructors (including some of the leading instructors in the U.S.) in classes such as kickboxing, spinning, and conditioning.
Deekron has DJ'd at some of the leading fitness clubs, with recent performances at Equinox and David Barton. He has also produced several workout compilations for consumers that can be found on iTunes.
Motion Traxx is an extension of his commitment to provide people with workout motivation through music. "My music has moved thousands of bodies, and with Motion Traxx, I aim to move thousands more," he said.
Deekron is confident that, unlike other fitness music podcasts, Motion Traxx music is effective because it is high quality and inspiring. Deekron brings nearly a decade of experience DJing and running three dance music labels to the Motion Traxx episodes. He explained, "After hearing what others had attempted to produce with podcasts that are geared toward fitness, I wanted people to hear the difference when music is high quality, rich in creativity, and uplifting. I've also injected Motion Traxx episodes with my personal brand, which is bold, intelligent and dynamic."
Not only is Motion Traxx fun and effective, but also free. To keep Motion Traxx free for listeners, Deekron leveraged his relationships with artists and dance labels, and made special arrangements to allow for use of their music in the podcast.
The first installment of the podcast, "Downtown Soul," layers funk and soul flavors over an energetic journey. The mix consists of 14 tracks at 150 beats per minute and lasts approximately 55 minutes. During the introduction, Deekron tells you how many calories you could burn, and how far you could run if you stay on 'pace' with the mix. Whether one chooses to run or not, the soulful tracks keep you inspired and energized throughout your workout.
Motion Traxx is a bi-weekly podcast that will shift to a weekly format as subscriber demand increases. Listeners are invited to visit http://www.motiontraxx.com, where they can subscribe for free to the podcast, and download the first installment, "Downtown Soul." Motion Traxx can also be found on iTunes by searching for "Motion Traxx" or "Deekron."
About Deekron 'The Fitness DJ':
Deekron is a life-long athlete, DJ, and business executive. In 2006, he traded in a successful corporate career as a business consultant in New York to pursue his passion and make a difference in people's health. Deekron's mission is to create a healthier world by inspiring people to exercise through fun and effective workout music.
In 2007, Deekron launched his workout music label, RockitWave8, which provides Group Fitness Instructors with high-energy CDs specifically tailored for use in classes such as kickboxing, spinning, and conditioning. Deekron has DJ'd live for major gyms, including Equinox, Crunch, and David Barton. Some of the country's top fitness instructors like Rob Glick, Petra Kolber, Keli Roberts, Paul Katami, Calvin Wiley, Clay Grant, and Nike Elite Instructors Patrick Goudeau and Stacey Lei Krauss have sought out Deekron's music for their classes to motivate and enthuse their students.
Deekron also serves as a music consultant to Power Music, the #1 fitness music company in the world. In this role, he has produced several exciting workout compilations for individuals - appropriately paced workout mixes that blend current pop hits - which can be found on iTunes by searching for "Deekron." Deekron's latest project is Motion Traxx - a free, fitness music Podcast that 'fuels' running and general workouts.
###