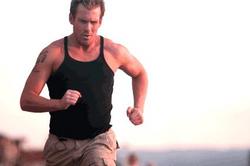 Have you been working out?
Saint Joseph, MO (PRWEB) September 14, 2007
Most of us wish we were a few pounds lighter, or able to climb a flight of stairs without needing a respirator once we reach the top. The Department of Health and Human Services (DHHS) states that 3 of 4 Americans do not exercise consistently and as many as 7 out of 10 are overweight.
According to the Director of Product Development at Certigo Nutraceuticals, Dan O'Connor, "Many overweight and sedentary people have a desire to get fit and lose weight evidenced by the over-consumption of fad diets and weight loss pills in recent years. However, permanent weight loss and real fitness will only come through consistent exercise; and diet pills and exercise are quite incompatible."
With this in mind, Certigo Nutraceuticals has been developing a workout pill that, unlike diet pills, addresses problems such as a lack of motivation, energy and endurance that hinder those who are sedentary or overweight from getting fit and permanently losing weight.
Mr. O'Connor puts it this way, "Workout pills have the same ease of use as diet pills. However, instead of giving you cramping and diarrhea, they stimulate motivation to exercise, increase energy levels, and alleviate muscle fatigue helping you reach the exercise intensity needed to produce real fitness results and long-term weight loss."
Consistent exercise is the key to permanent weight loss and workout pills may be an effective tool in helping anyone reach their exercise and fitness goals. Best of all, exercising produces no negative side effects other than temporary soreness and the minor inconvenience of repeating one's self many times when asked "Have you been working out?"
For additional information on the news that is the subject of this release, contact Joe Freudenthal or visit http://www.certigo.us.
About Certigo Nutraceuticals:
Certigo Nutraceuticals is a US-based nutraceuticals company founded by health care and fitness professionals. Its manufacturing facility registered with the FDA is one of the first to receive the National Nutritional Food Association's (NNFA) Good Manufacturing Process (GMP) Seal of Approval.
Contact:
Joe Freudenthal, director of operations
Certigo Nutraceuticals
816-396-5556
http://www.certigo.us
# # #