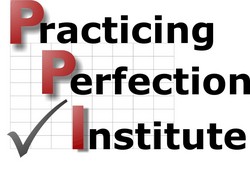 We are thrilled to see this absolute validation
Swanzey, New Hampshire (PRWEB) July 17, 2008
What would it mean to your organization if you could improve workplace safety, slash errors, and eliminate accidents, all while witnessing sky-rocketing efficiency improvement of more than 70%? Impressive results just released by the Practicing Perfection Institute (PPI) validate that their six sigma enhancing approach is poised to help any organization.
It's a FACT: Human beings are fallible - workplace safety suffers because everyone makes mistakes.
It's ALSO a FACT: There is now proof that a bold new approach to reducing errors in the workplace is crushing all the old paradigms and performance records in six sigma organizations and beyond.
Results just received from three clients of the Practicing Perfection Institute, Inc. (PPI) prove beyond a doubt that this new approach to reducing human error, rooted in six sigma concepts, has profound and almost immediate results.

An electrical transmission organization in central Texas reports a 55.2% reduction in the average number of minutes per month of equipment outage caused by human error through integrating PPI's methods.
A major electrical transmission/distribution company in the northeastern US reports that PPI's own techniques for workplace safety resulted in an almost 75 percent reduction in human error rate -- even in the midst of massive capital expansion employing multiple contractors!
A commercial nuclear power plant was just awarded a STRENGTH by the World Association of Nuclear Operators (WANO) for their incorporation of these simple, yet revolutionary, methods
"We are thrilled to see this absolute validation," stated Tim Autrey, CEO of PPI. "This is an entirely new way of addressing the issue of human error. Now that the proof is rolling in, every organization employing human beings should be taking notice and figuring out how they can adopt these (simple) strategies and tools."
Surveys conducted by PPI have identified that the top four worker performance challenges for all organizations, whether six sigma or not, are:
How to get workers to "buy-in"
How to get leaders, managers and supervisors to provide full and honest support
How to get workers to comply with policies and procedures for workplace safety and performance improvement (even when no one is watching)
How to effect genuine culture change
In order to achieve truly successful results, the type of results that reflect a genuine culture shift, any workplace safety or performance improvement process must tackle ALL of these challenges.
Additionally, how the process is rolled out is critical. If it is perceived as another mandate from above, another "program of the day," workers will immediately reject it. To be effective, workers must perceive themselves as the driving force.
In an effort to help organizations of all sizes and types enhance their six sigma practices by taking advantage of these entirely new tactics for reducing human error, enhancing workplace safety and improving performance, PPI is releasing a series of free online instructional videos over the next couple of weeks. The videos (as well as a Priority Dispatch detailing the successes mentioned above) can be accessed at http://www.practicingperfectioninstitute.com/strategies/jr.htm.
For more information, contact:
Tim Autrey
tim.autrey(at)practicingperfectioninstitute.com
Phone: 877-832-9492
Cell Phone: 802-380-4405
For additional info cited in release: http://www.practicingperfectioninstitute.com/strategies/jr.htm
Corporate site: http://www.PracticingPerfectionInstitute.com
Blog site: http://www.hufactor.com
###