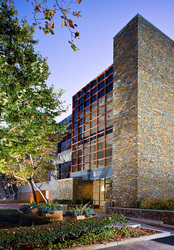 WorkScapes at Newport Beach hosts e-cycling event, Friday, December 4, 2009.
Newport Beach, CA (Vocus) December 2, 2009
Hackman Capital Partners, LLC, a private real estate investment firm, announced its first E-Cycle Day, on Friday, December 4, for WorkScapes at Newport Beach tenants. The collection truck will be on site at the six-building, 84,000 square foot office park from approximately 10:00 a.m. to 12:00 p.m. Participation is free, and tenants are invited to use the event to dispose of unwanted electronic devices from home, as well as work, including computer equipment, stereos, televisions, cameras and more.
"If it has a plug, we'll take it," said Ryan Gaya, Vice President of DC Environmental, the company that's coordinating the event for WorkScapes at Newport Beach. According to Gaya, most other waste-stream management and recycling companies use vendors who are pickier about the electronics they accept and may even turn material away. "The last thing a tenant wants to hear is 'thanks, but no thanks,' which is why our vendor takes everything, even alkaline batteries, despite it being a costlier venture for them. That's one of the ways we provide better customer service."
Management is providing WorkScapes at Newport Beach tenants with a complete list of eligible items, along with a simple office collection form, which must be completed before the event. Should tenants also want a written certificate of destruction, along with video and photo, showing that the material was destroyed in an environmentally safe and confidential manner, there is a $10 fee.
The electronics collected are disassembled and the components are separated by category. Obsolete components are recycled for the precious metal values. Plastic parts are sold to plastic grinders, who recycle the raw materials. Working components may be sold as spare parts to electronic wholesalers. Before hardware and software are recycled, DC Environmental ensures that information is destroyed and thereby protected from data theft.
"All hard drives are degaussed in a high voltage magnetic field which renders them useless, and holes are drilled into the plates to destroy their surfaces. Media and software are then shredded and ground up at a California state registered recycler," explained Gaya. "Our process gives people peace of mind."
The E-Cycling Event at WorkScapes at Newport Beach is part of a larger, multi-faced, go-green campaign being implemented at the office park, and in addition to the comprehensive recycling and e-cycling program, includes green demolition and green cleaning, as well as tenant education. The first free Green Initiatives Workshop and Luncheon, which introduced tenants to strategies for achieving a greener more sustainable office environment, and featured Gaya and area environmental expert Cassie Walker, was held at the property on November 5. The second Workshop will be held Wednesday, December 2.
WorkScapes at Newport Beach is owned by an affiliate of Hackman Capital Partners and is managed on-site by PM Realty Group (PMRG), both of whom are sponsoring the E-Cycle Day, in partnership with DC Environmental.
MORE ABOUT HACKMAN CAPITAL PARTNERS
Hackman Capital Partners, LLC (HCP) is a private real estate investment firm specializing in the acquisition, management, redevelopment and adaptive reuse of industrial and commercial real estate. Founded in 1987, the company pursues value-added investment opportunities nationwide, and currently owns and manages more than 16 million square feet of real estate across the United
States. Hackman Capital Partners is headquartered in Los Angeles, and has regional offices in
Chicago, Columbus, Ohio, and Kalamazoo, Michigan.
For more information, visit http://www.hackmancapital.com
MORE ABOUT DC ENVIRONMENTAL
DC Environmental is a waste stream management and recycling program service provider, located in Tustin, California. DC Environmental works with building owners, property managers and facility managers to evaluate existing waste removal systems and to identify opportunities for implementing more cost-efficient and environmentally conscious processes.
For more information, visit http://www.dcenv.com
MEDIA INFORMATION
For additional information or interviews related to this release, contact:
Eleanor Moriarty at Hackman Capital Partners
310-473-8900, ext 150
LEASING INFORMATION
For information about leasing space at WorkScapes at Newport Beach
or to arrange a tour, contact:
Simon Dillon, 949.725.8668
Linda McCord, 949.725. 8434
*WorkScapes at Newport Beach is owned by AZNL-NTC, LLC, a joint venture formed and managed by Hackman Capital Partners, LLC.
###