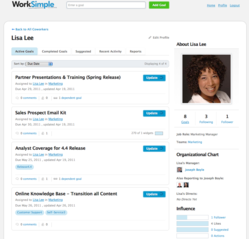 Social Goals meets the need of a new generation of workers, replacing inefficient tools like e-mail and spreadsheets that can leave employees confused about where a goals stands.
San Francisco, CA (PRWEB) April 27, 2011
WorkSimple, The Social Goals Management Company, today announced the public availability of Social Goals, empowering every company to create a free, private social network to publish, share, and track goals. With Social Goals, any company can collaborate on goals to drive greater team productivity. Any employee can register their company for a free Social Goals account at GetWorkSimple.com.
Social Goals relies on familiar social networking features from Facebook and Twitter, including profiles, goal status updates, and real-time feeds. Social Goals lets employees publish goals, share goals, and follow goals, individuals and teams. Social Goals is revolutionizing goal setting and attainment with a transparent, interconnected approach to corporate goals and accountability.
WorkSimple-Social Goals Made Simple
WorkSimple makes it easy for users to connect and collaborate around goals so they can see their impact and understand the ripple effect of goals across the organization. Employees can use Social Goals to:

Publish and share goals
See what coworkers and teams are tackling
Collaborate on team or department goals
Stay connected with remote employees
Give and receive goal feedback
Recognize coworkers' achievements
Track Goal Scores
See Goal Influence and impact
Track Goal Categories across the organization
Understand priorities based on goal dependencies
Identify bottlenecks that impact goals
Automate weekly goal progress reports
WorkSimple's Social Goals Management platform offers breakthrough technology that is ushering in the next generation of goal collaboration to companies of all sizes.
Comments on the News
"Social Goals meets the need of a new generation of workers, replacing inefficient tools like e-mail and spreadsheets that can leave employees confused about where a goals stands. Social Goals takes the familiar elements of today's leading social networks and translates them into the world of goal creation and management, setting the stage for greater collaboration, greater productivity, and greater revenues."—Morgan Norman, Founder and CEO of WorkSimple
"Social Goals is ideal for workers in an knowledge-based economy, offering a user-friendly platform that requires less than 10 minutes of training to master its intuitive social networking features. The cloud-based platform helps new employees get up to speed on company goals quickly so the entire team can begin pulling in the same direction immediately."—Ben Moore, Founder and CTO of WorkSimple
WorkSimple Pricing and Availability

WorkSimple Social Goals is now generally available at no charge to anyone with a company e-mail address.
WorkSimple Basic (Free) includes Social Goals, Teams, Goal Categories, Feedback, Recognition, and Reporting.
WorkSimple Team Edition is available for $5 per user, per month. The Team edition includes all Basic Features, plus Goal Reviews, Goal Scores, and Enhanced Reporting.
WorkSimple will continue to offer a Company Edition for Enterprise customers who need enhance administration controls.
About WorkSimple
WorkSimple, The Social Goal Management Company, provides a simple and secure way for employees to publish, share, and track their goals. Small teams and large global organizations alike use social goals to improve communication, productivity, and engagement. The basic version of WorkSimple is free, and includes social goals, recognition, feedback, goal activity streams, and automated weekly status reports. Customers can pay to upgrade their social goal network for additional functionality including goal reviews, goal score, and employee influence. Get started at http://getworksimple.com.
Media Contacts:
Morgan Norman
WorkSimple Software
415-671-4714
marketing(at)getworksimple(dot)com
Jennifer LeClaire
Revelation Media for WorkSimple
305-467-4284
jennifer(at)revmedianet(dot)com
###