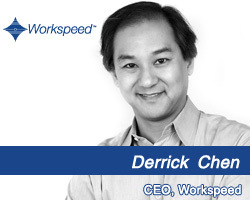 Our customers demanded a dependable notification system to complement the Emergency Action Plans we developed for them and Workspeed is the logical partner for us
New York, NY (Vocus) March 26, 2010
Are you prepared for any emergency that occurs on your property? Can you instantly notify all property occupants about emergency occurrences and procedures? These are just a couple of topics that Workspeed, the leader in intelligent real-estate management solutions, and Global Security Group, (GSG) a world-renowned emergency preparedness organization, are joining forces to discuss as they inform and educate property owners, managers and employers on the need for emergency preparedness. The Get Emergency Ready Webinar is the first initiative in a series of upcoming outreach the companies are planning to ensure you're responsible for your people and prepared to handle crisis situations effectively.
"An Emergency Preparedness strategy is critical for our clients who own, operate and take residence in many of the nation's most prominent buildings. By coupling our comprehensive, easy-to-use notification system, Workspeed Notify, with a knowledge-based Emergency Action Plan from Global Security Group, our clients are armed for all unforeseen events," said, Derrick Chen, chief operating officer at Workspeed.
With disasters, terrorism and severe weather at an all time high, educating and informing property personnel about the importance of emergency preparedness is the primary goal of this partnership. Having a simple broadcast system is no longer sufficient. Property owners, managers and employers must be able to account for their office and building occupant's whereabouts and well being in order to avoid potential liability. The Get Emergency Ready Webinar will offer participants an introduction to emergency best practices and readiness.
"Our customers demanded a dependable notification system to complement the Emergency Action Plans we developed for them and Workspeed is the logical partner for us," said Mark J. Novak, president of Global Security Group. "Through this joint webinar we hope to drive awareness to emergency preparedness and the liabilities they face without an appropriate strategy."
The Get Emergency Webinar will be held today, Thursday, March 25, 2010 at 2:00 PM EDT.
During the webinar Workspeed and Global Security Group will cover:

The importance of emergency preparedness
Communication considerations
Potential liability issues you can avoid with a proper strategy
Customer experience share with an inside look at an effective Emergency Action Plan
For more information on this Webinar, please go to: Get Emergency Ready.
About Workspeed
Workspeed is the leader in intelligent real-estate management solutions. Our innovative Web-based and wireless applications are designed to optimize real estate operations and to promote sustainability. The patented Workspeed solution enables property owners and managers, building staff, facility professionals, vendors, tenants and occupants to collaborate efficiently on a single flexible and intuitive rule-driven platform.
Workspeed technology is currently utilized by more than one hundred thousand users in over 500 million square feet of commercial and residential real estate and facilities. Workspeed is an active member of the U.S. Green Building Council (USGBC), a 501(c)(3) nonprofit composed of leaders from every sector of the building industry working to promote buildings and communities that are environmentally responsible, profitable and healthy places to live and work.
© 2010 Workspeed Management, LLC. All rights reserved. Workspeed and the Workspeed logo are either registered trademarks or trademarks of Workspeed Management LLC in the United States. The 'USGBC Member Logo' is a trademark owned by the U.S. Green Building Council and is used by permission. The logo signifies only that Workspeed is a USGBC member; USGBC does not review, certify, or endorse the products or services offered by its members.
Editors interested in reviewing or demoing Workspeed solutions please contact: Marcella P. Mazzucca, mmazzucca(at)workspeed(dot)com , (646) 442-6419 or (908) 601-2333.
For Customers interested in learning more about Workspeed solutions, please contact Workspeed at: sales(at)workspeed(dot)com or call (917) 369-9025.
About Global Security Group
Global Security Group prides itself on the quality of our training division and our programs, methods and techniques have set the standard in both the public and private sector. GSC's training staff has taught in the most prestigious law enforcement, security and fire academies in the world, including the FBI Academy in Quantico, Virginia. Our law-enforcement and tactical instructors have trained literally thousands of federal agents, police officers, military specialty units, tactical teams and foreign counterparts. Our fire officers have taught thousands of fire fighters and first responders the skills they need to respond to emergencies in the most challenging venue in the world - New York City. For more information on Global Security Group, please visit then at http://www.globalsecuritygroup.com.
###