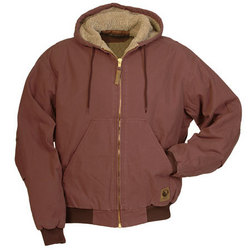 I am constantly looking for more quality products to add to the offering
Clemont, NY (PRWEB) October 6, 2009
"Berne Apparel helps expand our workwear offering to include a fine assortment of rugged hooded jackets & sweat shirts, work vests, winter jackets and other outerwear." says Scott Kahle, owner of Contractor's Solutions. "Their work clothing is well made, durable and keeps in line with our goal of offering quality merchandise to the professional tradesmen and other hard working people. Take for example, the Original Washed Hooded Work Jacket. It features a 12oz cotton duck shell, quilt lining, pleated elbows and back for mobility while working. It currently retails for $ 41.75. That's value anyone can appreciate. To kick off the new product offering, we are offering a 15% discount on orders of Berne Apparel until Oct 31, 2009. The customer must use coupon code BNPR1 when ordering."
Scott goes on to say; "Initially, we offered Blaklader workwear which is a fine product line of hard wearing work clothes, including work pants with built-in knee pads as well as rugged work jackets and tool vests. But as we listen to our customers and strive to find products sought after by tradesmen in the construction industry, I realized we needed to expand our offering. In particular, we needed hooded winter jackets and hooded sweat shirts. In the near future we will be adding high visibility clothing and rain gear, such as raincoats & rain jackets". You may want to stay posted in the future for more news and discounts on rainwear.
About Berne Apparel
Started in 1915 in the small Indiana community of Berne as The Berne Overall & Shirt Company, we wanted to provide the mid-western farmer with quality workwear that was durable and most importantly, affordable. With a pride and work ethic that could only be found in America, we did just that. To keep pace with this changing landscape, Berne Apparel has entered the next era just 60 miles north of our old stomping grounds. New Haven, Indiana is Berne Apparel's new landscape but Berne Apparel is still home to quality, durable, and affordable work wear.
About Contractor's Solutions
Contractor's Solutions is a trade name under WSK, Inc., which is owned and operated by Scott Kahle. WSK, Inc was founded in 2000 when owner Scott Kahle patented a portable table saw stand, the KwikStand. He began marketing this product on the internet. This led to the realization of the viability of marketing quality, time saving tools to tradesmen in the construction industry via the web. It was then decided to expand the offering beyond the initial single product. A new trade name "Contractor's Solutions" was created to more accurately reflect the nature of the business. "I am constantly looking for more quality products to add to the offering", says owner Scott Kahle. New products are being added to the website regularly.
###