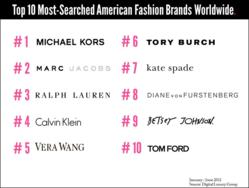 Handbag searches make up 36% of all American luxury fashion brand searches globally.
(PRWEB) October 25, 2012
Digital Luxury Group (DLG), the first international company to create luxury industry market intelligence and use this strategic viewpoint to develop unique digital marketing and strategies for luxury brands, in a first time partnership with Fashion's Collective, a new age marketing resource for fashion and luxury brands and Luxury Society, the world's largest community of luxury executives, unveil for the first time, a ranking and analysis of the most-searched American fashion brands globally.
The report is part of the World Luxury Index™, an international ranking and analysis of the most sought-after brands within the luxury industry. This segment study covers 35 US-based fashion brands and provides insights on the interest coming from luxury consumers around the world. The unbiased information is derived from an impressive sample of more than 31 million global consumer online searches.
DLG research analysts, with the support of the Fashion's Collective and Luxury Society teams, uncovered a number of interesting findings:
1. Handbags and Ready-To-Wear, the most sought after fashion categories
On average around the world, American brands are most often searched for within the Handbag and Ready-to-Wear categories. Handbag searches make up 36% of all American luxury fashion brand searches globally, yet in China, as one example, this is even higher, representing more than 50% of American fashion brand searches. Global searches for the top 2 brands, Michael Kors and Marc Jacobs, show handbags are representing close to 60% of total brand-related searches.
2. Michael Kors leadership
The Michael Kors brand was launched in the early 80's, but it's in recent years thanks to a slew of public activity (Project Runway participation, IPO, etc.) that the brand has really thrived. In the first half of 2012, profits more than tripled, and the brand's success is particularly noted in places like China and Brazil, where the brand's attention has been placed.
3. American brands lagging in BRIC markets
While there are a few standouts, overall, European brands in the same sector do a far better job of marketing to and doing business with "emerging" BRIC markets, Brazil, Russia, India, and China. For the American luxury fashion brands studied, nearly 70% of search volume originated on home turf in the U.S. with only 7.5% from BRIC markets. For the European brands, BRIC search volume represents over 30%.
4. Surprises from China
Brands such as Tory Burch and Hervé Léger do surprisingly well in China. In the case of Tory Burch, the brand's first store in Mainland China was opened in Beijing in 2011 and the brand has made efforts to tailor its offering to this market by modifying sizes and tastes to suit the Chinese consumer. Hervé Léger has benefited from local celebrities embracing the brand's classic bandage dress as standard photo opp attire, thereby gaining attention with celeb-conscious consumers.
A free version of the report is available for download at: http://www.digital-luxury.com/USfashion.
--
About Digital Luxury Group
With offices in New York, Geneva, and Shanghai, Digital Luxury Group (DLG) is the first international company dedicated exclusively to luxury industry market intelligence as well as the design and implementation of digital communication strategies for the luxury brands. http://www.digital-luxury.com
About Fashion's Collective
Fashion's Collective is an educational resource for fashion and luxury brands focused on new-age marketing. Through high caliber editorial content, private interactive workshops and conferences, Fashion's provides a level of perspective, expertise and thoughtful analysis to the intersection of luxury and digital technology. http://www.fashionscollective.com
About Luxury Society
Luxury Society is the world's most influential online community of top luxury executives. Based in Paris, with members in more than 150 countries, Luxury Society informs and connects CEOs, managers, journalists, consultants, designers and analysts from across the luxury industry. http://www.luxurysociety.com