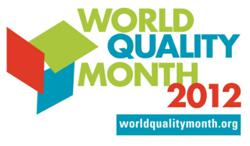 It's a unique opportunity to recognize and celebrate the valuable accomplishments of quality professionals.
State College, PA (PRWEB) October 10, 2012
Minitab Inc., the leading provider of software for quality improvement and statistics education, will recognize World Quality Month in November by showcasing success stories about how companies and individuals have used Minitab products to support their quality initiatives.
World Quality Month is an annual celebration of the world's commitment to quality tools, techniques and continuous improvement systems. Now in its third year, the celebration provides a platform for acknowledging the accomplishments of people and organizations making advancements and valuable quality contributions in businesses, communities and institutions worldwide.
Minitab encourages customers to visit Minitab.com and complete the "Share Your Story" form on the Minitab Blog to tell stories about how they use tools and functions in Minitab software to achieve quality improvement goals.
Selected stories may be featured on the Minitab Blog, on Minitab.com, or in a future issue of Minitab News. A list of Minitab customer success stories and testimonials is available at http://www.minitab.com/company/case-studies/.
Minitab is also celebrating by offering several free quality-themed webinars throughout the month of November. To register for upcoming webinars and to view the current list of webinar offerings, visit http://www.minitab.com/training/web-events/.
"Minitab is proud to join with quality practitioners worldwide to celebrate World Quality Month in November," says Michelle Paret, product marketing manager for Minitab. "It's a unique opportunity to recognize and celebrate the valuable accomplishments of quality professionals."
Customers can keep-up-to-date with Minitab celebrations for World Quality Month by following the company on Twitter, LinkedIn and Facebook.
World Quality Month was inaugurated in November 2010 by the American Society for Quality (ASQ) to reignite attention once generated in the 1980s by National Quality Month in the U.S. The event was created to generate a united, global forum for people and organizations to come together and raise their voices for quality.
For more information about World Quality Month and to view a calendar of events, as well as quality resources and success stories, visit WorldQualityMonth.org.
About Minitab
Minitab Inc. delivers software and services for quality improvement and statistics education.
Minitab Statistical Software is the preferred data analysis tool for businesses of all sizes and is used in more than 100 countries by thousands of distinguished companies, including Toshiba, DuPont, Boeing, Royal Bank of Scotland, Nestlé and the leading Six Sigma consultants. It has been used to implement virtually every major Six Sigma quality improvement initiative, and to teach statistics in over 4,000 colleges and universities worldwide.
Quality Companion by Minitab is the package professionals use to plan and execute Six Sigma projects in companies around the world, including Xerox, ITT Industries, Providence Health System, Nissan North America and LexisNexis.
Quality Trainer by Minitab provides easy access to quality statistics expertise whenever you need it. This subscription-based online learning course lets you learn or refresh your knowledge anytime and helps you use Minitab to apply statistics properly. Interactive lessons based on real problems make concepts easy to retain.
Minitab Inc., headquartered in State College, Pa., operates offices in the United Kingdom, France and Australia and has additional representatives throughout the world. For more information, visit http://www.minitab.com.
###