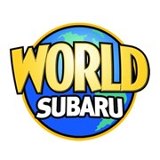 Customers can also take advantage of special discounts that we are offering specifically on the day of our event. Come join us!
TINTON FALLS, N ew Jersey (PRWEB) June 20, 2013
World Subaru, as one of the local NJ car dealers, is bringing more than just its normal specials and exceptional options to its customers. Subaru fans may be interested in the newest event that is coming to World Subaru: first-ever Tuner Tour. All owners are welcome to bring their own cars and show them off.
On Saturday, June 22 from 11 a.m. to 4 p.m., Subaru fans will be able to join the fun while being able to see the hottest Subaru STI and WRX's in the area.
"We are excited to give shoppers the option to show off the cars they love most," said Mike Lomazzo, General Sales Manager at World Subaru. "Customers can also take advantage of special discounts that we are offering specifically on the day of our event. Come join us!"
World Subaru is one of the NJ car dealers that know how important cars can be to "die-hard" fans. With free food, refreshments and plenty of entertainment, even those who aren't owners will have more than just spectacular cars to enjoy.
Any visitor will also be able to take advantage of special discounts along with special pricing on all in-stock and special order parts and accessories. All owners and new shoppers will be able to visit the dealership for fun, entertainment and specials they may not find anywhere else.
World Subaru offers it shoppers more than specials and promotions with its exclusive VIP program. Free services that come in the VIP program include oil changes, tire rotations, car washes, 28-point checkups, loaner cars, shuttle services, and roadside assistance. Shoppers may be interested in the VIP program for its additional 10 percent off parts and service.
About World Subaru:
For more information, visit http://www.worldsubaru.com/ or call 877-377-6805.
World Subaru serves their many customers with exceptional service. With special promotions and pricing offered to all customers, buyers have many purchase and leasing options available to them. Customers should know they will find what they are looking for once they visit World Subaru. World Subaru is conveniently located at 688 Shrewsbury Avenue in Tinton Falls, NJ 07701.
About Nexteppe (http://www.nexteppe.com):
Nexteppe provides dealerships with a dedicated support team and a full suite of all-in-one products including InControlPro, Comment Builder and ProSHOTS. Take your dealership inventory marketing and management to the next level with Nexteppe. Learn more about how we can enhance your website's design and enhance your inventory marketing and management by visiting us on the web or calling our New York office at 888-572-8892.