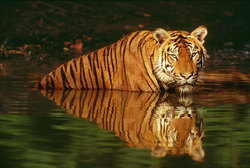 Washington, DC (Vocus) November 12, 2010
World Wildlife Fund (WWF) and TRAFFIC International will hold a joint media briefing by teleconference on Tuesday, Nov. 16 ahead of the upcoming International Tiger Forum, which takes place later this month in St. Petersburg.
Russia's Prime Minister Vladimir Putin will host a heads of government tiger summit in St Petersburg from 21 – 24 November. The summit comes at a critical time for wild tigers, with only an estimated 3,200 of them left in wild.
Heads of Government and ministers from the 13 tiger range countries are expected to attend the summit. The US is expected to send a high level delegation as it has long supported tiger conservation and anti-poaching efforts in Asia. The US also has more tigers in captivity (5,000-plus) than are alive in the wild, mostly in backyards and under little regulation. The lack of strict controls means these tigers could potentially end up supplying the international black market for tiger parts.
The tiger summit caps a year-long process to get high-level political support to move tiger conservation forward, through the adoption of an ambitious program to double the number of tigers in the wild.
At the summit, the heads of government are expected to endorse the Global Tiger Recovery Program (GTRP) and sign a Leaders' Declaration.
WWF's main goal for the summit is to ensure the leaders affirm their governments' commitments to double wild tiger numbers and pledge to take immediate actions on key elements of the Global Tiger Recovery Program.
During the Nov. 16 briefing, WWF also will share its vision and long-term approach to double the number of tigers in the wild by 2022.
Media resources can be found at http://www.panda.org/tigers/media.
WHO:
The briefing, via teleconference and WebEx will feature:
Mike Baltzer, Head of WWF's Tigers Alive Initiative
Sabri Zain, Director of Advocacy, TRAFFIC International
Dr. Barney Long, Manager of the Tiger Program, WWF-US
WHEN:
11 am EST on Tuesday, Nov. 16
*There will also be a call at 3 am EST on the same day to accommodate other time zones. For information and worldwide toll-free access numbers, contact [email protected]
HOW:
*Please note that the briefing has both an online and audio component. If you cannot access the online component, you can still join the conference call.
11 am EST meeting (meeting number 707 792 580 password: tigersummit)
To join the online meeting go to:
https://wwf.webex.com/wwf/j.php?ED=159313672&UID=497191142&PW=NMGVmNzdmYzc1&RT=MTYjMjM%3D
Enter your name and email address.
Enter the meeting password: tigersummit.
Click "Join Now".
Call in details to join the audio conference:
From USA: Toll Free—1-866-388-1928
Participant PIN: 963375#
For assistance:
Go to https://wwf.webex.com/wwf/mc
On the left navigation bar, click "Support".
ABOUT WORLD WILDLIFE FUND
WWF is the world's leading conservation organization, working in 100 countries for nearly half a century. With the support of almost 5 million members worldwide, WWF is dedicated to delivering science-based solutions to preserve the diversity and abundance of life on Earth, halt the degradation of the environment and combat climate change. Visit http://www.worldwildlife.org to learn more.
ABOUT TRAFFIC
TRAFFIC, the wildlife trade monitoring network, is a joint program of WWF, the global conservation organization and IUCN, the International Union for the Conservation of Nature. TRAFFIC currently works on wildlife trade issues in over 25 countries and territories, with ongoing research and activities in several others. Visit http://www.traffic.org to learn more.
Contact:
Lee Poston
(202) 495-4536 – office
(202) 299-6442 – mobile
###