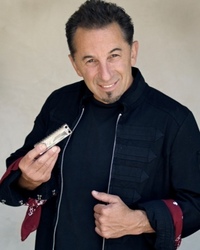 When the Saints Go Marching In
Santa Barbara, CA (PRWEB) December 5, 2007
Santa Barbara resident Nicky Shane has established the first wind instrument speed record with Guinness World Records as the world's fastest harmonica player.
Shane was awarded the certificate from Guinness World Records on July 3rd, 2007, for playing "When the Saints Go Marching In," at a speed of 285 bpm, at SRS Studios, in Santa Barbara, California.
As lyricist and lead singer of the band Heavy Metal Harmonica, Nicky belts out unique grooves and shredding melodic solos that often sound more like they might come from a Fender Stratocaster than a 10-hole harp.
A multi-dimensional artist, Nicky has a broad theatrical background, including 14 years of experience as a stand-up comedian. He is an accomplished painter and graphic artist. Shane's artwork has also been licensed for a line of greeting cards.
Nicky Shane donates a portion of the proceeds from his visual art to charitable causes, and welcomes the opportunity to do benefit performances with his band or as a stand-up comic, particularly for organizations working to protect the environment, house the homeless and feed the hungry.
He is currently scheduling dates for a world tour in anticipation of the release of a new album.
###