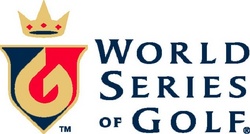 The players in our event are golfers that any average guy can relate to. They talk trash, they love to gamble, and on any given day, they could drain a twenty-foot putt with some real money on the line.
LAS VEGAS (PRWEB) June 20, 2008
A television sports special presentation that features all the thrills of golf with the character intrigue of a reality program, the two one-hour episodes chronicle the field of eighty amateur golfers as they come to Las Vegas to vie for a first-place $250K cash prize in an event that combines high stakes, high class, and high drama into a golf event that has been described as the most innovative golf format since the Skins Games.
"The World Series of Golf is about the personalities in the game, and our television broadcast focuses on an incredibly unique group of individuals," said Terry Leiweke, president of the World Series of Golf and NCAA football record holder. "The players in our event are golfers that any average guy can relate to. They talk trash, they love to gamble, and on any given day, they could drain a twenty-foot putt with some real money on the line."
While largely a field of "weekend warriors," viewers will also be familiar with some participants from the worlds of sports, entertainment, and professional poker. Tournament players includes high-profile participants such as:
Ray Romano, actor (Everyone Loves Raymond), comedian Phil Gordon, world-class poker pro, author and television host Phil Ivey, five-time World Series of Poker bracelet winner Tom Schneider, 2007 World Series of Poker Player of the Year Daniel Negreanu, two World Poker Tour titles Rhett Butler, 2006 World Series of Poker main event 5th-place finisher Chris "Jesus" Ferguson, 2000 World Series of Poker Champion Erick Lindgren, 2004 World Series of Poker Player of the Year Dusty Allen, former major league baseball player Emily Jillette, wife of magician Penn Jillette (of Penn & Teller) The World Series of Golf combines the wagering format of Texas Hold 'Em with the skill of golf in a patent-pending format that allows for high-stakes to ride on each golf hole. Players ante up on each tee, then can bet, raise, call, check, or fold on each subsequent shot. Rather than shooting the lowest golf course score, the object of the game is to claim the pot on each hole, eventually eliminating your opponents by winning all of their chips. With a $10,000 buy-in, the event attracted amateur golfers from across the United States and Canada. Participants represented all walks of life ranging from private equity investors and Las Vegas high rollers to electricians and construction contractors.
The World Series of Golf has engaged in a multi-year domestic U.S. broadcast partnership with network television's sports leader, CBS Sports.
About CBS Television Network
America's most watched television network, CBS was established in 1928, when founder William Paley purchased sixteen independent radio stations and christened them the Columbia Broadcast System. Today, with more than two hundred television stations and affiliates reaching virtually every home in the United States, CBS is the Number One most watched network in primetime, with a total primetime network lineup that was watched by nearly one hundred million people a week during the 2006/2007 season-to-date. The Network has the Number One drama on television, CSI; Number One newsmagazine, 60 MINUTES; Number One sitcom, TWO AND A HALF MEN; Number One daytime drama, THE YOUNG AND THE RESTLESS. Its programming arms include CBS Entertainment, CBS News and CBS Sports.
About The World Series of Golf®
The World Series of Golf is a sports and entertainment company founded in 2004 whose activities include land based golf events, media, and an online, skill-based method of play for the game of golf. The company's first land-based amateur golf tournament took place in Las Vegas in 2007 and is the basis and launch pad for subsequent events internationally and for the company's overall strategy to leverage its patent-pending method of play, which combines the skill of golf and the wagering format of Texas Hold 'Em poker, into a leading global event and online enterprise. The company plans to achieve its objectives through strategic partnerships, sponsorships, and the founders' extensive experience and contacts in the sports world and broadcasting. For additional information or to register for an event visit the company's website at http://www.worldseriesofgolf.com.
Safe Harbor Statement
Statements about World Series of Golf's future expectations, including future revenues and earnings, and all other statements in this press release other than historical facts are "forward-looking statements" within the meaning of Section 27A of the Securities Act of 1933, Section 21E of the Securities Exchange Act of 1934, and as that term is defined in the Private Litigation Reform Act of 1995. World Series of Golf intends that such forward-looking statements involve risks and uncertainties and are subject to change at any time, and World Series of Golf's actual results could differ materially from expected results. World Series of Golf undertakes no obligation to update forward-looking statements to reflect subsequently occurring events or circumstances.
For entrance registration, high-resolution images and additional information: http://www.WorldSeriesOfGolf.com.