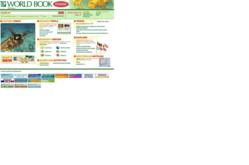 Wherever you have access to a web browser and need answers, World Book can be available.
Chicago, IL (Vocus/PRWEB) March 23, 2011
The entire text of the World Book Web - some 21 million words - is a part of Watson's "brain," IBM's® supercomputer that bested its human competitors on Jeopardy! last month. While people's brains are limited to human intelligence, not artificial, millions of children and adults have access to the World Book Web and can share in encyclopedic knowledge.
"Watson has helped to shed light on the importance of speed, understandability, and accuracy to learning," said Paul Kobasa, World Book Vice President and Editor-in-Chief.
Specifically, Kobasa elaborated on three key points making reference resources essential to learning for young and old alike:
Speed. Rather than all the information available, reference resources contain targeted, factual information. As a result, information seekers don't have to contend with thousands of "hits" from an Internet search engine query. Instead, those searching a reference database, like World Book Web, are likely to quickly pinpoint the information they're seeking.
Understandability. Unless you are a rocket scientist, you don't want to try – and likely won't be able – to decipher information written for a rocket scientist. General references are designed to provide clear, concise answers. In the case of World Book, this means each entry is geared to the level of understanding the likely reader has so that those seeking the information will understand it.
Accuracy. Finding information quickly and understanding it is important, but the information also has to be right. Information seekers can rely on publishers like World Book that have expert contributors and editors backed by fact checkers to ensure the accuracy of their information.
Access to Knowledge – Wherever You Are
Accessibility also is essential. Many public and school libraries in the U.S., Canada, and elsewhere in the world subscribe to the World Book Web for the benefit of their users. Remote access is built in, and so it's possible for people whose libraries subscribe to it to use the World Book Web when it is most convenient for them – whether at school, the library, home, or anyplace in between.
"Wherever you have access to a web browser and need answers, World Book can be available," Kobasa said.
About World Book
World Book, Inc. sets the standard in publishing accurate, current, and reliable reference and learning materials for children and adults. Based in Chicago, World Book is committed to creating educational products that meet the highest standards of editorial excellence in print and digital forms. This commitment has resulted in a wide range of products including the quintessential The World Book Encyclopedia; the World Book Web, a comprehensive and authoritative online solution meeting the diverse information needs of students, educators, public library patrons, and families; and World Book Classroom, innovative and effective teaching resources to improve learning in libraries, classrooms, and at home. World Book, Inc. (http://www.worldbook.com) is an affiliated company of the Scott Fetzer company, a subsidiary of Berkshire Hathaway, Inc. Connect with World Book at facebook.com/WorldBook or twitter.com/worldbookinc.
Names are trademarks of their respective organizations.
Contact:
Mary Jung: 773-429-0940
Jennifer Parello: 312-819-6558
###