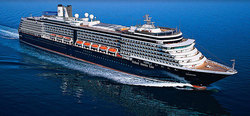 The value for attendees staying on board is unmatched, given a cruise ship's all-inclusive offerings, comfortable surroundings and highest levels of security and service, as well as transport between venue cities and stadiums
Miami, FL (Vocus) March 17, 2010
One Ocean Club has appointed Landry & Kling, Inc. as their exclusive representative in the U.S. and Latin America to market and sell floating hotel packages for the prestigious World Cup 2010 in South Africa. Landry & Kling was chosen because the firm originated the dockside housing phenomenon and has decades of experience utilizing cruise ships as floating hotels.
As the official sales agent for the U.S. and Latin American regions, Landry & Kling will offer a variety of secure and luxurious housing packages on board two premium Holland America Line ocean liners, MS Westerdam and MS Noordam. The two vessels will provide a total of 1,900 sleeping rooms. During the month-long event beginning June 10, 2010, the ships will be dockside at Cape Town, Elizabeth, and Durban for key matches. The 3,800 on-board guests will have the opportunity to attend games in World Cup stadiums in all three locations with transport available to other matches.
Packages will rival similar four- and five-star hotels with added benefits such as top level security, included entertainment on board, and all meals in a choice of restaurants. Shipboard guests have the advantage of only one check-in and transport from venue to venue, as well as the option to experience South Africa with concierge-assisted land excursions.
"The value for attendees staying on board is unmatched, given a cruise ship's all-inclusive offerings, comfortable surroundings and highest levels of security and service, as well as transport between venue cities and stadiums", states Joyce Landry, CEO of Landry & Kling. "While individual bookings have been selling rapidly, we are delighted to partner with One Ocean Club to secure blocks of cabins that would be attractive for soccer clubs, sports marketing companies and corporate groups."
To promote the floating hotel World Cup packages, Landry & Kling has launched http://www.WorldCupCruise.com. The web site offers information on packages, cruise ship accommodations, match schedules, venues and booking details. Package pricing starts from $645 per person, based on double occupancy. For group planning assistance, contact Landry & Kling at 800-448-9002 or +1-305-661-1880.
About Landry & Kling
Landry & Kling Inc., specialists in cruise event services, are credited with being the first distribution channel between the cruise industry and corporate America. Visionaries who led the way in seagoing corporate meetings and incentives, founders Joyce Landry and Josephine Kling ignited the corporate market for cruises by spearheading the meetings-at-sea concept back in 1982. With their exclusive focus on cruise events and meetings-at-sea, they have played a crucial role in advancing the cruise ship as a viable meeting venue and creating a whole new focus for the industry. Landry & Kling leads the field in cruise ship charters for global events and "floating hotels" (e.g. for the Jacksonville Super Bowl and Summit of the Americas in Trinidad) in addition to incentive cruises and all kinds of meetings at sea. Now, 28 years since their startup, they have responded to changing times in the meetings industry by creating Seasite.com, the first online cruise portal designed for meeting/event planners and group travel buyers. Partners Landry & Kling were inducted into the Cruise Lines International Hall of Fame in 2009. To learn more about Landry & Kling, visit http://www.landrykling.com.
Contact:
Maritza Burge
(305) 661-1880
###