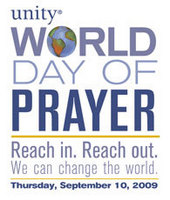 Prayer is a personal and sacred activity. Whether a prayer list is electronic or handwritten, we honor and respect the trust that has been placed in Unity. Everyone who sends a list to us online is asked to choose whether or not they wish to have the names displayed on our Web site
Unity Village, MO. (Vocus) September 9, 2009
Unity Village is introducing a new feature as part of its sixteenth annual World Day of Prayer celebration. For the first time, the 24-hour prayer vigil, which takes place September 10, will include participants praying for others online at the World Day of Prayer Web site. As is customary, a prayer vigil will also be held at Unity Village for an estimated total of more than one million names that have been submitted for prayer through the mail, by phone and online.
Over 44,000 names have been submitted for prayer online since June. Some 3,200 persons have registered to prayerfully acknowledge names online, according to Paula Coppel, Vice President of Communications at Unity. "Unity World Day of Prayer is open to people of all faiths for the purpose of uniting us in prayer. Our online spiritual community will join with others in the Unity movement to contribute to a consciousness of peace, prosperity, hope and health for all," she said.
Users logging on to participate on the World Day of Prayer Web site between September 7 and September 10 will see a slowly scrolling list of names to read and pray over. Music accompanies the list. Persons unaccustomed to meditative prayer can review a five-step prayer process to prepare for the vigil.
"Prayer is a personal and sacred activity. Whether a prayer list is electronic or handwritten, we honor and respect the trust that has been placed in Unity. Everyone who sends a list to us online is asked to choose whether or not they wish to have the names displayed on our Web site," said Lynne Brown, Vice President of Silent Unity, the 24/7 prayer ministry at Unity Village.
The theme for the 2009 Unity World Day of Prayer is Reach in, reach out. We can change the world. "This year is also unique in that we are uniting as a world community to put an emphasis on social action--putting our faith into practice helping others. Any action--big or small--can make a difference. We've asked participants to consider what they can do to help others and to state their intentions in writing," said Lynne Brown. The World Day of Prayer Web site includes a bulletin board for individuals and churches to share information about their efforts.
In keeping with the theme of spiritual action, Unity will host a benefit concert for Shoes4Unity at 7 p.m. September 10 in the Activities Center at Unity Village. Musicians Karen Taylor Good, Coco Ramos and Richard Mekdeci will perform, offering music in both English and Spanish. The evening will also include remarks by James Trapp, President and CEO of the Association of Unity Churches International.
Shoes4Unity was organized by the Association of Unity Churches International in conjunction with the nonprofit group Soles4Souls, which collects and distributes new and gently used shoes to needy persons in many countries. Lack of shoes is a public health issue in many impoverished areas.
World Day of Prayer Events at Unity Village

World Day of Prayer opening ceremony and candlelight walk, 7 p.m. Wednesday, September 9, in the Activities Center.
Daily Word service at 8 a.m. Thursday, September 10, in the Activities Center with special guest Dollie Rogers.
Silent Unity prayer service at 11 a.m. Thursday, September 10, in the Activities Center.
World Day of Prayer benefit concert, 7 p.m. Thursday, September 10, in the Activities Center, featuring Richard Mekdeci, Coco Ramos and Karen Taylor Good. All proceeds will go to Shoes4Unity.
Unity Village, Missouri is located at M-350 Highway and Colbern Road, near Lee's Summit (1901 NW Blue Parkway). Individuals can also join World Day of Prayer services via live streaming video at worlddayofprayer.org.
To learn more about the World Day of Prayer or to submit names of friends and family members for the prayer vigil or to pray for others online between September 7 and September 10, 2009, visit worlddayofprayer.org. Spanish-speaking individuals can visit diadeoracionmundial.org.
About Unity
Unity is a not-for-profit organization based on the teachings of Jesus and the healing power of prayer. Its world headquarters at Unity Village, Missouri, provide a tranquil atmosphere for quiet meditation and a place for all people, regardless of faith or background, to worship. Unity's prayer, publishing, education and retreat ministries allow it to provide people around the world with positive, spiritual messages of hope, healing, prosperity and peace.
Unity held its first World Day of Prayer in 1994. Over the years, thousands of people have participated as prayer partners during special Unity World Day of Prayer vigils held each year at many of the nearly 900 Unity churches and centers around the world.
Unity was founded in 1889 and helps people of all faiths apply positive spiritual principles in their daily lives. It can be found on the Internet at unityonline.org.
Unity publishes Daily Word, a monthly magazine of inspirational messages that is distributed to about one million people in 180 countries.
Unity's transdenominational prayer ministry, Silent Unity, maintains a 24-hour prayer vigil every day of the year and receives some two million letters, telephone calls and Internet requests for prayer annually. Anyone in need of prayer support may call (800) NOW-PRAY (669-7729). Prayer support is also available on line at silentunity.org.
###