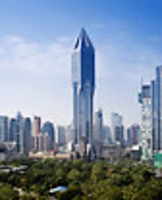 Shanghai, China (PRWEB) April 14, 2010
Emphasizing a "Better City, Better Life" for all, the upcoming World Expo 2010 Shanghai, China exhibition is set to debut May 1 and run through October 31, 2010 in Shanghai offering visitors the opportunity to experience a pilot example of sustainable and harmonious urban living. Those traveling to China for the event will find discounted hotel packages that include single day admission tickets at the JW Marriott Hotel Shanghai at Tomorrow Square, a magnificent Shanghai city view hotel.
Marriott hotels have joined with Shanghai to welcome guests from around the world to this global event and have tailored this 15% discount package to provide travelers with lavish amenities from a business hotel. Expo 2010 Shanghai China, a once-in-a-lifetime exhibition, is expected to draw over 70 million visitors during its six-month duration and the JW Marriott Hotel Shanghai at Tomorrow Square is ideally located and within walking distance to museums, the Shanghai Grand Theatre and world-class shopping at Nanjing Road. Providing complimentary daily shuttle service to World Expo 2010, Shanghai China hotel accommodations of this caliber are sure to make the event even more spectacular. Covering 5.28 square kilometers and spanning both sides of Huangpu River to include areas in both Pudong and Puxi, the World Expo will feature national pavilions, exhibitions and events as well as world forums and a host of cultural and artistic performances for the expected 200,000 daily visitors.
Guests taking advantage of this advance purchase offer will receive 15 percent off a minimum stay of two nights and a complimentary Expo 2010 Shanghai China single day admission tickets per stay, complimentary public transport card worth 100CNY, and free breakfast. Rates, discounted from the Benchmark rate, start at 1,470 CNY and are valid through August 31, 2010. Rooms may be booked online at http://www.marriott.com/hotels/hotel-deals/shajw-jw-marriott-hotel-shanghai-at-tomorrow-square/ by using the promotional code ADP or by calling 1-800-228-9290 for reservations or additional information.*
Accommodations at the JW Marriott Hotel Shanghai at Tomorrow Square include massage showers, luxury bedding ensembles and business-savvy appointments to meet the needs of every traveler. Guests may also enjoy the hotel's indoor and outdoor pools, fully-equipped 24-hour health club and on-site Mandara Spa. Home to "The Highest Library in the World," as decided by the World Guinness Records, the hotel's executive library on the 60th floor has an open air terrace boasting views of the stunning Shanghai skyline. The award-winning JW Marriott Shanghai has recently received a number of awards, including 2010 Condé Nast Traveler - Gold List, 2010 Business Traveler - Best Business Hotel and 2010 National Geographic Traveler - Gold List.
JW Marriott Hotel Shanghai is the Exclusive hotel partner for the UK Programme of Events at Expo 2010. Being the official home of Club UK - a meeting space within the hotel dedicated to the UK Pavilion and its partners and shareholders, the hotel also will host a series of events during Expo to embrace this connection with the UK Pavilion, which includes the Quintessential English Afternoon Tea brought over from the Grosvenor House in London to the hotel's 38th floor Lobby Lounge.
*Offer valid seven days a week 5/1/10 through 10/31/10. Stay must be booked by 3/31/10 with full credit card pre-payment. Payment is not refundable, but authorized to change the booking dates without extra fees. If additional nights, customer will pay the supplement; no refund on less nights. A limited number of rooms are available.
About the JW Marriott Hotel Shanghai at Tomorrow Square
The JW Marriott Hotel Shanghai at Tomorrow Square, rising 60 stories above downtown Puxi, provides breathtaking views of the Shanghai skyline and offers lavish guest rooms and a host of culinary delights in its choice of fine on-site restaurants. This five-star luxury hotel offers exquisite guest rooms and suites featuring 24-hour concierge and room service an executive level and lounge.
###