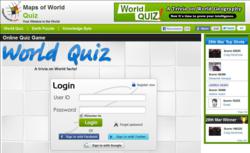 "We want World Quiz to bridge the perceived gap between learning and entertainment."
San Jose, CA (Vocus/PRWEB) March 31, 2011
A recent story in The New York Times Magazine reports that video games are being proactively adopted in classrooms as part of special initiatives to enhance learning among children.
The study highlights the undeniable benefits games offer: timed challenges, engrossing style of presentation, involvement of multiple senses. It also proposes that teachers evolve their methodology and aggressively develop educational games as an alternative to traditional learning. The long-term effects of such an approach, however, remain to be seen.
Along those lines, Mapsofworld.com, a major map portal offering world maps and information, has released World Quiz– an interactive application for cementing one's knowledge of the world.
"Subjects like geography and history are generally seen as dry topics," said Puneet Bajaj, project lead for Mapsofworld.com's World Quiz, "but we want World Quiz to bridge the perceived gap between learning and entertainment."
When launched, World Quiz lets users choose a quiz theme from many categories. Three levels—Beginner, Intermediate, and Advanced—ensure continued learning for frequent users. Time is limited for each question, and wrong answers are penalized. The quiz is also available as an extension for popular browsers.
The application connects to Facebook and lets the users share their progress with friends. "Community activity accelerates learning, which is why World Quiz lets people compete with friends, and even globally," Bajaj remarked. World Quiz has a fast-growing community, whose comments show that the quiz helps them plug holes in their knowledge, especially the students.
MapsofWorld is maintained by MapXL Inc., providing high-resolution world maps and information across many categories and more than 800 themes. They also provide high-quality mapping services for atlases and guides to many major publishers. The website is ranked among top 1000 websites in the US by Quantcast. You can also buy maps published by National Geographic from their online store. Recently, they released free World Atlas for iPad and iPhone.
For more information about MapsofWorld and its products, contact:
MapXL Inc.
10 S, Third Street, Suite 310,
San Jose, CA 95113
mani(at)infobase(dot)in
# # #