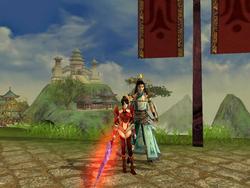 Shanghai, China (PRWEB) May 31, 2008
It just got a lot easier to start exploring the World of Kung Fu, a virtual world based on the traditional arts and mythology of ancient China. Anyone who registers a new account will receive 3 novice cards that can be exchanged for in-game money as well as for a variety of useful items. Existing players with characters below level 18 are also eligible to receive a free novice card simply by asking one of the friendly World of Kung Fu GameMasters.
Novice cards can be exchanged for unique bonus items including:
Novice Lion Toy -- Rise from the dead! This allows players to revive their characters when they die.
Novice Teleport Stone -- Handy way to teleport from various locations around the World of Kung Fu.
Novice Iron Tool -- Powerful tool needed to collect wood, ore, and herbs.
Novice Experience Charm -- Gain an extra 20% experience for 1 hour!
Novice Tai Yi Pill -- The most powerful healing in the game; allows full hit point restoration.
Novice Earth Temple -- Spontaneous travel to any previously visited city from anywhere in the game: a real time saver.
Novice Renovation Hammer -- Enables players to repair broken weapons and armor in the field rather than having to visit a smith in one of the towns.
Every free novice card is unique. Each card can be exchanged for 2 or more items plus in-game currency. More information about how to exchange a free novice card for items and cash is posted on the World of Kung Fu website at http://www.worldofkungfu.com/index.cfm?src=&action=novicecard
The World of Kung Fu is a virtual world rooted in traditional Chinese society and mythology. Players will be exposed to the depths of China's ancient philosophy while enjoying amazing adventures in a fantasy game world setting. World of Kung Fu can be downloaded free from the World of Kung Fu website at http://www.worldofkungfu.com/index.cfm?src=pr3.
About VestGame Entertainment Inc.
VestGame Entertainment is the North American publisher of "World of Kung Fu", a fully 3D massively multiplayer online game distinguished by its unique gameplay, beautiful graphics, and exotic storyline. VGE has offices in Shanghai, New Haven, and Pasadena in the United States. More about the company can be found at http://www.vestgame.com
For much more information about the North American version of "World of Kung Fu" including tutorials, forums, screenshots and downloads, please visit the official World of Kung Fu website at http://www.worldofkungfu.com/index.cfm?src=pr3.
Contact:
Jonathan Seidenfeld
Director of Business Development
VestGame Entertainment Inc.
+86 - 136 3637 3214
Jon @ vestgame.com
# # #