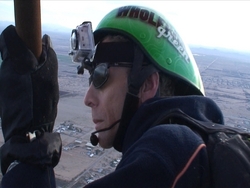 Make no mistake, this stunt is dangerous; however, I don't look at this as reckless behavior. I look at it as a very calculated expression of my humanity and something that makes my life worthwhile.
Salt Lake City, UT (Vocus) March 11, 2010
Who: Bill Heaner, professional extreme athlete and owner of WholeBody Green
What: 49-year-old Bill Heaner will attempt a world record stunt. Heaner will jump out of a hot air balloon with a paraglider. The balloon will descend several thousand feet, and Heaner will attempt to land back into the same balloon on the same flight. Jumping out of an aircraft and landing back in the same aircraft has never been accomplished before.
When: March 19-21, 2010
Where: Casa Grande, Arizona. Video of the test flight conducted in February can be found on http://www.wholebodygreen.com/stunt.html. Video of the record-setting attempt will be made available at http://www.youtube.com/user/RPMPPG
Why: Due to the danger and skill involved in this stunt, it has never been attempted. Heaner has been preparing for this stunt for two years. This nearly 50-year-old extreme athlete has mentally and physically prepared himself to be up to the challenge. He even developed a health and nutrition company called WholeBody Green to provide a unique edge he would need for this event. Other extreme athletes are supporting and consulting Heaner on this stunt including Will Gadd, arguably the greatest ice climber to ever live; Cliff Ryder, aerial stunt expert; Mark Broderich, expert skydiver/base jumper; Chris Santacroce, professional paraglider pilot of Superfly, Inc.; and Scott Nichol, the professional hot-air balloon pilot who will fly the balloon for the stunt.
The stunt will be filmed in HD by Greg Miller of Immersion Media Group for national television.
Quote: "Make no mistake, this stunt is dangerous; however, I don't look at this as reckless behavior," said Bill Heaner, extreme athlete and CEO of WholeBody Green. "I look at it as a very calculated expression of my humanity and something that makes my life worthwhile."
Media Contact:
Tim Rush
SNG PR
801-208-1100
Tim(dot)rush(at)sng(dot)com
###