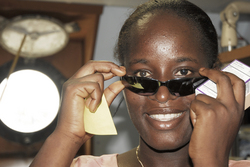 The ophthalmic nurse took so much care in choosing an exact match. It's a miracle!
Monrovia, Liberia (Vocus) October 9, 2007
World Sight day is an annual event that focuses attention on the global problem of blindness and visual impairment.
But alongside the fully equipped hospital ship Africa Mercy, docked in the West African port since late May this year, results of restored vision are celebrated literally every two weeks as former patients return dockside to "Celebrate Sight."
At the most recent event this past week, more than 200 eye patients gathered to share their stories, sing and dance to the beat of African drums. During speeches and festivities, the Mercy Ships Eye Care Team also took the opportunity to conduct post-operative eye exams in other parts of the tent.
Distance, lack of transportation and cost of travel are obstacles that often prove too great for patients to return for post-op exams six weeks following a surgery where additional problems can often be intercepted. But a celebration gives many a reason to return.
Eye-chart tests are set up, eye exams conducted by the optometrist and laser eye procedures performed by the team's ophthalmologist thanks to a portable, table-top YAG laser.
Suah is a young woman in her twenties with a lot to celebrate.
Thanks to the gift of a prosthetic eye fitted last May, Suah is one of the fortunate few who now has a job and is able to contribute to supporting her family. Eight people in ten in Liberia are still without work as the nation struggles to rebuild after 14 years of civil war. For the visually disabled, that statistic is much greater.
"All my life people have rejected me," Suah began. "I lost my eye when I was two. Every day people have poked fun at me. I am considered abnormal."
Yet despite the mockery, she persisted through school. Nursing was her dream. Passing the entrance exam for nursing school was an incredible accomplishment. But she was denied a place.
"They explained that because I only had one eye I wasn't allowed to attend nursing school," stated Suah.
Shocked and miserable, there was nothing that she could do about it. Her family could barely afford to feed themselves, let alone fund any medical bills. Then a doctor from her church told her about the Mercy Ship.
Looking back now, Suah laughs. She clearly remembers the first time she saw the prosthetic eyes. They looked so real and yet so strange. A drawer full of eyes!
"Now people look at me and can't even tell which eye is the prosthetic," Suah's smile grows. "The ophthalmic nurse took so much care in choosing an exact match. It's a miracle!"
Suah explains the difference her new eye has made in her life. "I now work with [former] child soldiers, who have been through so much pain, and also teach on HIV with a local NGO."
Having personally experienced the pain of being ostracized, Suah's heart is for helping those who still hurt. Now with two beautiful eyes, she has the confidence to pursue her dreams and reach out to others in need within her country.
Volunteer eye professionals onboard the Africa Mercy have been able to give more than 4000 free eye consultations since surgeries began onboard the newest Mercy Ship in June.
To help give others like Suah the gift of sight, click on the Mercy Catalog here: http://www.ms-information.org/2008MercyCatalogue/page12.htm
About World Sight Day: World Sight is an annual event on the second Thursday of October which focuses on the problem of global blindness. It aims to raise public awareness around the world about the prevention and treatment of loss of vision. According to the WHO, people who live in developing countries are 10 times more likely to go blind than people who live in highly industrialized countries. Every five seconds, one person in our world goes blind
About Mercy Ships: Mercy Ships is the leader in using hospital ships to alleviate human suffering by delivering world-class medical and community services to the forgotten poor. Founded in 1978 as a global charity by Don and Deyon Stephens, Mercy Ships brings hope and healing to the poor in developing nations.
Stills, video and audio clips available at http://www.mercyshipsnewsroom.org
Professional photos and interview opportunities with Mercy Ships volunteer eye care professionals available upon request
For more information on Mercy Ships, contact:
US Media:
USA: (903) 939 7649
http://www.mercyshipsnewsroom.org
International Media:
UK: 44 1438 727 800
###