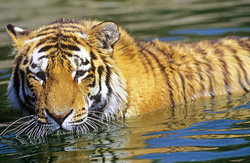 This agreement is a great boost for Amur tiger habitats in Russia and China. Since both countries play a crucial role in terms of global tiger recovery, a future transboundary network would represent a big step in WWF's global tiger conservation effort
Washington, DC (Vocus) August 30, 2010
Chinese and Russian officials have agreed to set up a first ever protected area for endangered Amur tigers, also known as Siberian tigers, between Jilin province in China and neighboring Primorsky province in Russia.
World Wildlife Fund (WWF) facilitated the agreement, which will help Chinese and Russian wildlife authorities establish a transboundary cooperative conservation network and partner to restore the endangered species. It marks another important milestone during the Year of the Tiger in 2010.
Destruction and fragmentation of habitat, poaching and lack of prey have reduced the number of wild Amur tigers. It is the largest of all the tiger subspecies with an estimated total population of about 450. Of these, 20 tigers have been periodically spotted within the borders of China's Jilin and Heilongjiang provinces.
"A new transboundary protected area would provide a wider and healthier habitat for Amur tigers and other endangered species, such as the Amur leopard, musk deer and goral," said Yu Changchun, Director of Conservation Department of Jilin Forestry Department at the event.
Jilin and Primorsky provinces will increase information sharing on the protection of the two big cat species, adopt identical monitoring systems for tigers and their prey, conduct joint ecological surveys and develop plans to launch an anti-poaching campaign along the border.
"While tigers—the species at the top of the ecosystem—are better conserved through the agreement, other species, the forest habitat and all the biodiversity resources will also benefit from this protected area," said Dr. Zhu Chunquan, WWF-China's Conservation Director.
In addition to promoting the transboundary protected area, WWF-China successfully helped establish a protected area for tigers in Jilin. It is also working with northeast China's Heilongjiang province, another important home to Amur tigers, to bring it under the fold of the transboundary protected area. If this plan comes to fruition, the protected area for Amur tigers and other threatened species will double.
"This agreement is a great boost for Amur tiger habitats in Russia and China. Since both countries play a crucial role in terms of global tiger recovery, a future transboundary network would represent a big step in WWF's global tiger conservation effort," said Dr. Sergey Aramilev, Biodiversity Coordinator for Amur Branch of WWF-Russia, which is also involved in promoting the agreement. "There's a lot of work to be done to implement this agreement, such as making sure it receives proper government funding, but this is a major step forward nonetheless."
About World Wildlife Fund
WWF is the world's leading conservation organization, working in 100 countries for nearly half a century. With the support of almost 5 million members worldwide, WWF is dedicated to delivering science-based solutions to preserve the diversity and abundance of life on Earth, halt the degradation of the environment and combat climate change. Visit http://www.worldwildlife.org to learn more.
###