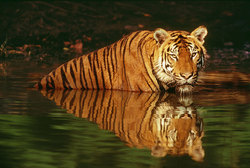 ...without the appropriate scale of manpower and money, we're going to keep losing tigers.
Moscow (Vocus) November 20, 2010
Heads of government attending the International Tiger Conservation Forum in St. Petersburg, Russia this week must ensure the meeting is a turning point in the fight to save tigers by backing their joint plan with immediate action, World Wildlife Fund (WWF) said today. The global conservation organization added that it is crucial for any action to have the necessary manpower and financial backing to make a deep and lasting impact.
At the summit, beginning Sunday and hosted by Prime Minister Vladimir Putin, heads of government are expected to endorse the Global Tiger Recovery Programme (GTRP) and sign a Leaders' Declaration, committing to take actions to double the number of tigers in the wild by 2022, the next Year of the Tiger.
"The proposed Global Tiger Recovery Programme and Leader's Declaration show that they have the right intentions and want to save tigers," said Michael Baltzer, head of WWF's Tigers Alive initiative. "But the meeting must serve as a launching pad for global efforts to save tigers. We hope that the meeting will conclude by having governments not only adopt a solid plan, but show strong political will and secure the resources to back the plan up with immediate action. Because frankly, without the appropriate scale of manpower and money, we're going to keep losing tigers."
The cost of the initial stage of the recovery program is $350 million. It was prepared by the tiger range countries with support from the Global Tiger Initiative of the World Bank, the Global Environment Facility and other tiger conservation partners, including WWF.
Of this total, the most urgent and critical to the recovery is $35 million to fill the current funding gap required to protect and monitor the last remaining refuges of tigers, based on recent study published in PLoS Biology.
Tiger recovery will also require funds to protect vast landscapes across countries where tigers live. Every dollar spent will help protect critical ecosystems important for millions of people and key to maintaining biodiversity – which is why donor organizations and countries will play such an important role at the summit.
The Global Tiger Recovery Programme took a year to plan and was developed by the countries that have tigers. It lays out a comprehensive set of actions to help tigers recover from decades of hunting and clearance of their forest homes. These leaders are meeting in St. Petersburg to endorse the plan, but this is just the beginning, Baltzer said.
"These countries coming together to create a joint plan to double the number of wild tigers is monumental in itself," said WWF Director General Jim Leape. "Nothing like this has ever happened before. It shows that governments recognise these magnificent animals are truly in peril. Every country represented here -- the tiger range states and donor countries -- must stand up and commit to immediate action. The world is watching because people everywhere care about the plight of tigers. And people know that if we save the tiger, we will save much more – the great forests of Asia which are home for many other species and for hundreds of millions of people."
The process leading to the Forum has already resulted in governments taking major steps this year to protect tigers. The Russian government, for example, recently adopted a ban on Korean Pine logging – saving crucial Amur tiger habitat.
"A ban on Korean pine logging is the best gift for the Amur tiger in the Year of the Tiger", said WWF-Russia CEO Igor Chestin. "Korean Pine has a crucial importance for tiger conservation: its cones are fodder for wild boars, and wild boars are tiger's prey."
Note to Editors:
WWF has a team of experts in conservation, tiger science and policy at the summit and also in Washington. Call Lee Poston at +1-202-299-6442 or email at lee(dot)poston(at)wwfus(dot)org
Photos/B-roll and other media materials available at http://www.panda.org/tigers/media
ABOUT WORLD WILDLIFE FUND
WWF is the world's leading conservation organization, working in 100 countries for nearly half a century. With the support of almost 5 million members worldwide, WWF is dedicated to delivering science-based solutions to preserve the diversity and abundance of life on Earth, halt the degradation of the environment and combat climate change. Visit http://www.worldwildlife.org to learn more.
Lee Poston
(202) 299-6442 – mobile
lee(dot)poston(at)wwfus(dot)org
# # #