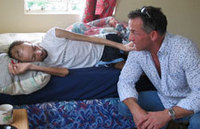 There are so many misconceptions about the disease that I am trying to help clear up. Some Swazis believe that by taking a steaming hot shower and scrubbing themselves, that they can be cured of the disease. Others think that if they have intercourse with a virgin that they will be cured
Los Angeles, CA (PRWEB) December 1, 2007
Jonathan Craig, a native Californian living with HIV for 25 years without major complications and founder of Global AIDS Ministry (http://www.globalaidsministry.org), has been named the Goodwill Ambassador to Swaziland, Africa by the Royal Army Commander Sobantu Dlamini, following his forth speaking tour through the country as it suffers from more than a 40 percent HIV/AIDS infection rate.
The first week of November saw Jonathan give an emotion-filled national TV address viewed by more than 1 million Swazis. In his address, Jonathan shared his strategy for living a long life with HIV, to inspire them as HIV and/or AIDS rates are spiraling out of control. "You have to take responsibility for your actions, live a healthy life, and you must be supportive of one another. You can't ignore your brothers and sisters who have been infected…they need your love and support," appealed Jonathan.
Jonathan's trip also saw him speak to more than 7,000 Royal Army troops, the Royal Police Academy and churches in the area. He also traveled to rural areas to bring food and education to Swazis who don't have access to television or modern conveniences. With the help of interpreters, Jonathan worked to answer questions and offer ideas for healthful living.
Churches in the area learned about Jonathan and gathered together to discuss the current HIV and/or AIDS situation. This was the first gathering in which all denominations assembled together to discuss how they can make a difference in the lives of the Swazis. Jonathan stood in front of the group of church leaders and pleaded with them to deal with the Swazi men and women on a practical level. "The people you are trying to reach are heartbroken and confused," said an emotional Jonathan. "You need to quit trying to shove religion down their throats and work to give them practical information on daily living."
Jonathan has worked to share practical information on safe sex, the manner in which HIV is transported from person to person and how to treat loved ones who are infected with HIV and/or AIDS. "There are so many misconceptions about the disease that I am trying to help clear up. Some Swazis believe that by taking a steaming hot shower and scrubbing themselves, that they can be cured of the disease. Others think that if they have intercourse with a virgin that they will be cured," explains Jonathan. "This mis-information is leading to the loss of too many amazing people."
This was Jonathan's fourth tour through the country. He is currently now back in the United States developing education programs for Swaziland to be implemented in 2008. Also, he was asked to write an address for World AIDS Day that will be printed in major Swazi newspapers on December 1st.
Jonathan is currently booking a U.S. speaking tour and would love to inspire your organization, university or company with his story and tips for living a courageous and inspiration filled life in a diverse and complicated world. For more information visit http://www.globalaidsministry.org or call his booking agent at 310-402-3012.
###