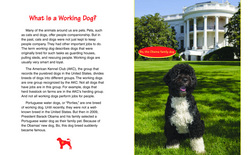 World Book's Animals of the World rewards students' natural curiosity about animals by offering readily available, easy-to-understand information
Chicago, IL (Vocus) February 3, 2010
For the millions of students who have wondered why some kinds of lizards change color or why cats always land on their feet, World Book's Animals of the World set 6 provides the answers. Each of the 10 volumes in set 6, the latest set in this award-winning series, provides easy-to-comprehend, visually appealing information about a particular animal and its related group:

Beagles and Other Hounds
Bulldogs and Other Nonsporting Dogs
Clownfish and Other Saltwater Aquarium Fish
German Shepherds and Other Herding Dogs
Green Anoles and Other Pet Lizards
Hamsters and Other Pet Rodents
Miniature Schnauzers and Other Terriers
Persians and Other Long-haired Cats
Portuguese Water Dogs and Other Working Dogs
Shih Tzu and Other Toy Dogs
"World Book's Animals of the World rewards students' natural curiosity about animals by offering readily available, easy-to-understand information," said World Book Editor in Chief Paul Kobasa. "This, in turn, reinforces their understanding and appreciation of the animal kingdom."
Ideal for students who want to learn more about different kinds of pets, the books include information about the personality of the featured animal, what to look for when selecting a pet, how to care for the animal, and the importance of responsible pet ownership. Information about each animal's appearance, habitat, behavior, and care is reinforced with full-color pictures, maps, and illustrations. Each volume also includes instructive animal classification charts to show where the featured animal fits into the animal kingdom. A detailed table of contents, glossary, and index ensure that readers get the most out of each book, and a list of additional print and Internet resources encourages students to explore the topics further.
Developed for students reading at the primary or middle school level, pictures of animals in their natural habitats also are an excellent reference for art students in secondary school or beyond.
Ordering and Availability
Animals of the World set 6 (978-0-7166-1365-7) is available now from the school and library sales force at 800-975-3250 (U.S.) or 800-837-5365 (Canada) and from the school and library ordering site (http://www.worldbookonline.com/sales).
About World Book
World Book, Inc. sets the standard in publishing accurate, current, and reliable reference and learning materials for children and adults. Based in Chicago, World Book is committed to creating educational products that meet the highest standards of editorial excellence in print and online. This commitment has resulted in a wide range of products. These include the number-one selling The World Book Encyclopedia; the World Book Web, which is the most comprehensive and authoritative online solution to meet the diverse information needs of students, educators, public library patrons, and families; and World Book Classroom, innovative and impactful teaching resources to improve learning in the classroom setting. World Book (http://www.worldbook.com) is a Scott Fetzer company, a subsidiary of Berkshire Hathaway, Inc.
###