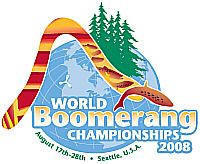 Seattle, WA (PRWEB) July 29, 2008
Seattle is about to become the center of the high-flying boomerang universe when over 100 athletes representing 13 countries compete in the World Boomerang Team Cup and Individual Championships August 17-24. The world class event, which will will take flight at the University of Washington Intramural Fields, showcases a talented US Boomerang team in a five day, two world championship event, including a battle against rival Germany to reclaim the world team championship title right here at home.
The World Boomerang Championships take place every two years under the auspices of the International Federation of Boomerang Associations. Teams from the top boomerang throwing countries in the world will be featured including Germany, which has taken 3 of the last 4 world team titles, the United States, which last won the coveted world championship trophy in 2002, as well as high caliber teams with the talent to win it all from Switzerland, France and Japan. Other countries whose national teams will be competing include Australia, Brazil, Canada, Italy, Great Britain, and Denmark.
Seattle will be the first American city to host the prestigious international event this millennium. The USA team blends youth and experienced world cup veterans hungry to retake the world title.
Boomerang athletes will be competing in various tests of throwing and catching skills in showcase events ranging from Fast Catch, using boomerangs that can fly with the speed of a major league fastball, to Trick Catch/Doubling. Trick catches include under the leg, behind the back, between the feet with one boomerang, then with two boomerangs thrown at the same time. Other spectator favorites include an Australian Round with boomerangs that fly out more than 50 meters before returning, and Maximum Time Aloft boomerangs that can hover up to minutes at a time!
The United States Boomerang Association's USA team features throwers from throughout the United States. It is led by a strong local Seattle area contingent consisting of Daniel Bower and Richard Bower of Kenmore WA, Steve Kavanaugh, Billy Brazelton, and James Stickney of Seattle WA, and Will Gix and Betsylew Miale-Gix of Brier, WA. USA team members also include Matt Golenor, Nashville Tennessee, Logan Broadbent , Columbus Ohio, Dan Johnson, Eau Claire Wisconsin, Chet Snouffer, Delaware Ohio, Mark Weary, Phoenix Arizona, Bob Liefeld, Waterloo Illinois, Adam Ruhf, Arcata California, Casey Larrance, San Jose CA, Wilson Larrance, Stonington Connecticut, Mark Legg, Columbus Ohio, and Jason Smucker, Atlanta Georgia.
Keep your eyes on the skies and aim high. Come see the best boomerang throwers in the United States take on the best in the world!
For more information or to schedule team member interviews, contact USBA USA Boomerang Team Captains Matt Golenor or Betsylew Miale-Gix
Visit the World Boomerang Championship Website at http://seattle2008.ifba-online.com/
Visit USBA USA Boomerang team sponsors: The Corporation for International Business and Boomerangs.com.
###