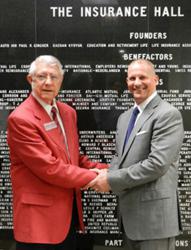 The public insurance adjuster is your advocate to successfully settle your claim.
(PRWEB) April 12, 2012
WorldClaim CEO, Michael Fusco, spoke to the Alabama Insurance Society at the University of Alabama; his presentation covered the insurance claims process from his point of view as a public adjuster. He highlighted the primary obligation of a public insurance adjuster, which is to represent clients' interests (the insured) by preparing and presenting accurate and fully documented claims information for their losses.
William Rabel, teaching Professor of Insurance & Financial Services at UA, was pleased with Mr. Fusco's presentation, and he comments, "I want to interest more students in our profession and having outstanding speakers makes it easy. Michael Fusco is a great ambassador!"
Mr. Fusco started his career as a public adjuster in 1979 and holds licenses in over 25 different states, as well as Canada, the Caribbean Islands, and Chile. He has handled multi-million dollar commercial and residential losses throughout the world as a result of fire, windstorm, hurricane, tsunami, and earthquake damage. In addition to expanding his business, Mr. Fusco has successfully lobbied the states of Georgia, Maine, and North Carolina for the standardization of licensing and practices in the field of public adjusting.
As a recognized expert in his field, Mr. Fusco has been invited to join numerous organizations and committees, including the National Apartment Association and the National Suppliers Council, where WorldClaim is the only public adjusting company to be granted membership.