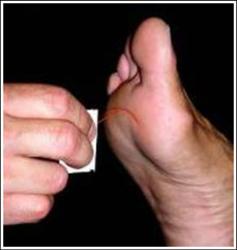 While annual foot exams are recommended for all people with diabetes, those who experience tingling, burning, sharp pains, or spasms are considered at a higher risk for complications.
Tampa, Florida (PRWEB) November 08, 2011
The International Diabetes Federation (IDF) reports that the number of people with diabetes continues to grow exponentially - with more than 440 million people estimated to be affected globally in the next 20 years.
"Foot complications such as non-healing ulcers, pain and fractures will plague up to 60-70% of those diagnosed with diabetes, and are typically a result of the loss of normal sensation to pressure, pain, and/or temperature" explains Dr. Sarnarendra Miranpuri, DPM, MD. "It is this loss of protective sensation that puts people with diabetes at a greater risk for foot ulcers, which can lead to amputation if not promptly and properly treated."
Despite these risks, a survey compiled by the American Podiatric Medical Association suggests that less than 56% of all diabetic patients visit a Podiatrist to receive an annual foot examination. "Research suggests that this simple but comprehensive annual exam can significantly reduce a person's risk of developing foot complications, and when combined with a multidisciplinary approach, up to 85% of amputations can actually be avoided," adds Dr. Miranpuri.
Anodyne Therapy, LLC provides 10 gram monofilament tests to a network of 6,000 healthcare organizations that use Anodyne® infrared light therapy in conjunction with physical therapy to help patients address certain diabetic foot complications. Monofilament testing, together with professional diagnosis, helps to establish a patient's risk for the development of complications by identifying degrees of sensory loss and provides a baseline for appropriate care planning.
"Through this event, we hope to raise awareness on the reality of foot complications in people with diabetes" explains Craig Turtzo, President of Anodyne Therapy, LLC. "This testing kit is not a substitute for professional medical care, rather it should serve as an indication that a person should find a local healthcare provider, such as a Podiatrist, to perform a more comprehensive exam," continues Craig.
2,000 of the foot testing kits will be available FREE on a first-call, first-serve basis from November 14th (World Diabetes Day) through November 18th. Included in the kit will be a 10 gram monofilament, evaluation form and a practical guide to living with diabetes that includes routine foot care recommendations. Interested people with diabetes should call 1-800-521-6664 or visit http://www.anodynetherapy.com/diabetesday to request their free kit.
###