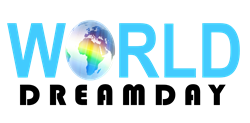 World Dream Day celebrates the human imagination and its capacity to innovate. Dream Different, the theme for 2014, invites Individuals, businesses and communities to use their ideas, goals and dreams to make a difference.
New York, NY (PRWEB) August 26, 2014
World Dream Day announces "Dream Different" as the theme for its third annual global day of activation, scheduled for September 26, 2014.
Currently celebrated in more than 35 locations around the world, World Dream Day is a global, participatory holiday that celebrates the power of dreams, goals and ideas to transform lives, businesses, communities and the world. http://www.dayfordreamers.com/about-us/
Celebrations, discussions and events will be held in key locations around the world, including the USA, The Philippines, India and Nigeria.
On September 26, participants are encouraged to:

"We often forget that our dreams, goals and aspirations, along with the way we achieve them, directly affect our own lives, as well as the lives of people all over the planet," said Ozioma Egwuonwu, founder of World Dream Day. "This year's theme—Dream Different—celebrates the human imagination and its capacity to innovate. By drawing awareness to the need for more conscious, creative and collaborative approaches to realizing goals and dreams, we send a message to people all around the world that our dreams and goals are not just for ourselves, but also for each other."
In addition to worldwide celebrations, the initiative provides free tools and resources to empower the world at large and foster global citizenship: a "Dream Curriculum" for teachers and parents to share with the youth, a global virtual conference with partner Entheos Academy of Optimal Living, a live-streamed inspirational event, and the launch of the DreamRunner Global Online Dream Academy—an educational platform that teaches personal development and business strategies for realizing dreams while giving back.
About World Dream Day
World Dream Day was founded by Ozioma Egwuonwu of BurnBright International, an acclaimed transformational strategist and Social Entrepreneur who teaches a Master's level course on Developing & Implementing Ideas at Columbia University.
World Dream Day is a day of dialogue, action and celebration. Every year, through live and online events, World Dream Day inspires individuals, businesses and communities to set ideas, goals and dreams in motion through local and global initiatives.