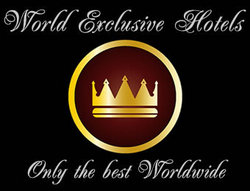 The World Exclusive Hotels website is the next step in the evolution ladder of travel websites, it's time to move on, be creative and better understand our guests. That's what we do, expect to see the future of online travel at World Exclusive Hotels.
(PRWEB) March 8, 2010
Luxury travel agency, World Exclusive Hotels, prepares it's soon to come launch in the luxury hotel market, ready to leave a big foot print with new ideas researched over the last 24 months. Primarily destined for the rich and famous, this exclusive travel agency,prestige hotel collection and luxury travel marketing network will promote a new kind of travel website, an evolution of today's very monotonous and similar travel booking website species. Call it Dynamic evolution!
After much research and serious analysis of today's many online travel booking websites, few acknowledge the consumer's state of mind by simply throwing various information around with a goal to maximize profits but not service. World Exclusive Hotels is just the opposite, its mission is to extend unsurpassed service by passively interacting with a consumer's certain needs and providing the exact information required based on the consumer's specific search criteria. But it doesn't stop there, a new unprecedented feature under development will be added to the hotel booking process in the near future, an idea that may perhaps sky rocket the luxury travel industry to a new era. More to come on this project further in the year.
World Exclusive Hotels features the finest and best hotels in the world, each indulging guests with the highest standards of service and quality with a minimum rating of five stars. Each city within the network will only boast a maximum of 5 of the most exclusive hotels. A World Exclusive Hotel can expect to have its own little world on the website to better immerse and give guests a taste of what they can expect at the hotel. World Exclusive Hotels is currently inviting the finest hotels in North America and Europe. Further in the year, African, Asian and Oriental hotels may also expect invitations.
Additionally, first class support is provided with each booking to satisfy any guest's desires, to plan each trip from start to finish even if it takes adding monkeys or a pet tiger to the reservation.
All in all, World Exclusive Hotels is an online playground for guests that can afford exclusivities that most cannot. Where one may plan a trip catered exactly to his wishes without effort, his vacation commences during the reservation process.
For media professionals, interested parties and the curious, go take a sneak peak at the beta version of the website and see for yourself.
###