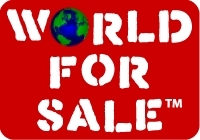 Niseko, Japan (PRWEB) March 6, 2009
In an attempt to defy the financial crisis and offer people an affordable slice of real estate, 28-year-old Michael Davenport is selling the world at his self-created website, http://www.worldforsale.com.
The idea is very simple: people can buy and "own" an area of the world. Anywhere that lies in one of the empty blocks on World for Sale's main page is for sale, be it a city, a beach, a small country, a place in the ocean, a mountain or anywhere else of interest. Ever dreamt of owning California, Monte Carlo, Byron Bay, Rome, Hawaii, or the Alps? Well, now might be your chance. 
 
Michael explains, "Beyond the prestige of owning a piece of the world, the idea is that people can promote their business, website, blog, photo gallery, etc. by placing a logo over their area and linking it to their website. Investors out there will also be interested to learn that all blocks can be resold in the future."
 
World for Sale is aimed at three demographics - those that fancy the idea of "owning" an area of the world, those that view the site as an investment and those that see it as a chance to promote their own website and business through the subsequent traffic.
 
Each block costs US$100 and is then available for resale based on demand. With 6,800 blocks available in total, Michael could net a handsome $680,000 dollars if he completes his goal of selling the entire world. And in giving back to the world, Michael guarantees that 10% of all earnings will go to charity.
 
Value for money? In real terms, there is room for two Hawaii's in each block with plenty of sea left for surfing and each cent buys the equivalent of approximately 1,400 American football fields. 
 
To date, Sydney, London and Hong Kong have already sold.
# # #