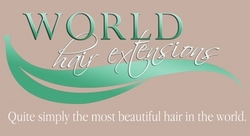 We want our clients to be happy with our products and we also want to reward them for their loyalty as well as for spreading the word about World Hair Extensions," says a representative from the company.
Sacramento, CA (PRWEB) November 13, 2010
World Hair Extensions (WHE), one of the largest distributors of 100% human Indian Remy hair extensions in the United States, announces the launch of its new roster of outside sales and incentives programs. With these programs, WHE's loyal clients and affiliates not only get superior, authentic Indian hair extension and hair pieces – they also get the chance to save and/or earn more money.
"We want our clients to be happy with our products and we also want to reward them for their loyalty as well as for spreading the word about World Hair Extensions," says a representative from the company. "Having happy, satisfied customers is our number one goal and these new programs have been designed to further that goal in a much broader sense and at a much deeper level."
WHE's new programs include a Client Loyalty Program, an Affiliate Program (also known as the Executive Income & Referral Program), and a World Hair Salon Program. The first was conceived to reward individual clients who personally reorder from World Hair Extensions. Someone who has accumulated $500 worth of orders, for example, receives 10% off on new purchases. Even bigger rewards await those with larger orders – clients who have totaled $2,000 and up will not only get 15% off on new purchases, they will also receive a secret gift and free second-day shipping on all future orders.
As for customers who want to save and earn at the same time, there's the WHE Executive Hair Program, where a client can pay for their next hair extensions simply by referring a mere seven sales within the span of six months. With these first seven referral orders, a client/affiliate receives a 15% commission per order, resulting in a total sum that's more than enough to finance an average future order. Plus, with this setup, the higher the number of referrals, the higher the number of commissions will be.
WHE also has a program for salon clients. The firm offers discounted rates to salons and licensed cosmetologists who want to provide their customers with the best high-grade extensions and hair products in the market. The firm's wholesale pricing program rewards resellers with greater discounts based on the volume and frequency of their orders. In short, the more often a salon places an order – and the larger that order is – the larger the discount as well. It is not unheard of to have discounts as high as 20 percent, making WHE hair extensions an excellent choice for salons and cosmetologists who place a premium on both value and quality.
WHE is a Sacramento, CA-based firm that has been in the hair extension business for more than 23 years and is one of the largest distributors of 100% human Indian Remy hair in the country. The exclusive distributor of Margaret's Indian Remy Hair, which has been dubbed as the Rolls Royce of hair extensions and pieces, WHE has established its own operations in India in order to preserve and carefully monitor the consistently high quality of its products.
It has long been known across the industry that the best hair extensions originate from India. Indian women are renowned for taking exceptional care of their hair and for many it is one of their biggest assets. As such, when they are required to sacrifice something of value in Hindu temples as Hindu tradition demands, they often offer up their hair – hair that has been pampered and is most often free of chemical treatments, making it ideal for high-grade extensions and hair pieces.
Recent years have seen a rise in demand for hair extensions from everyone from celebrities to people suffering hair loss to individuals who simply want to instantly revamp their look. The rising trend means that more and more salons throughout the United States are now including extensions for hair in their list of services. Still, while it has now become easier to transform one's look via hair extensions, WHE urges those planning on getting extensions to make sure that their stylists are only using 100% human Indian Remy hair.
Unlike many of the hair extensions that are saturating the market these days, WHE's hair extensions are completely non-synthetic and non-animal. All of the firm's products are 100% guaranteed to be Indian Remy hair extensions, with intact cuticles and a unidirectional alignment, which results in dramatically less tangles and a more natural look and feel. Most of the hair extensions on the market do not have these qualities and opting for these inferior products often results in discomfort, a shorter life for the extension, and greater restrictions when it comes to styling since synthetic hair does not hold up well to blow-dryers, curling irons and many other styling tools.
With WHE's 100% human Indian Remy hair extensions and hair pieces, on the other hand, one can enjoy greater peace of mind, a longer life for the product, and the freedom to style as one pleases. While too much processing is still not recommended, one can rest easy knowing that one's hair extensions can be treated as normally as one's own hair. Easy to maintain and of premium quality, it is no surprise why celebrity-grade hair extensions only use Indian Remy hair.
WHE ensures the consistently high quality of its products by keeping a rigorous eye on the sourcing and sorting process. Even before leaving India, the hair is already closely inspected and anyone who purchases a World Hair Extensions product receives a Certificate of Authenticity that provides complete assurance that their extension is made purely of Indian Remy hair. Each extension is carefully handpicked according to a client's specifications, checked separately by two other verifiers, washed with a Ph-balanced shampoo and allowed to air dry, and packaged in special protective packaging that seals it from environmental damage.
Interested in learning more about WHE hair extensions? Visit the firm's website, http://www.WorldHairExtensions.com, for more information on ongoing promos and discounts and to view WHE's premier collection of hair extensions, before and after galleries, answers to FAQs, how-to guides, and other hair extension products and resources.
# # #