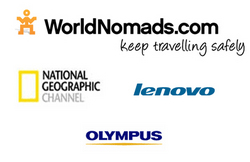 for his extreme efforts and absolute commitment to obtaining rare and amazing photographs.
(PRWEB) June 7, 2008
Leading online travel insurance provider, WorldNomads.com, together with National Geographic Channel, has announced its 2008 photography scholarship, which will award one exceptional student the 'chance of a lifetime' assignment.
The winner will get to accompany renowned wildlife on-assignment National Geographic photographer, Jason Edwards, to photograph the Arid Lands Festival and The Great Hughenden Endurance Camel Race, a quirky 160km camel endurance race run in August.
The Festival and Race are being held in Porcupine Gorge in Outback Queensland, Australia, from 22 - 24 August, 2008.
Managing Director of WorldNomads.com, Simon Monk, says the photography scholarship is part of a broader educational program, which includes travel writing, documentaries and podcasting opportunities.
"It gives aspiring photographers almost unparalleled initial exposure, with the opportunity to have their images seen by hundreds of thousands of travellers worldwide," says Simon.
"Making a living out of travelling the world is something many 'world nomads' aspire to, and we're hoping to be able to help a few talented individuals make that their reality through our scholarship support, which sets them up with industry leaders as mentors and provides them true 'once in a lifetime' experiences."
As part of the assignment, the winner will work alongside and receive mentorship from Jason Edwards, gaining valuable hands-on experience in everything from shot set up, technique and composition through to insights into his many years of diverse experience as an award winning photographer.
As well as the opportunity to travel and be mentored, the scholarship also includes airfares from the successful applicant's nearest international airport plus an Olympus E3 digital camera with 14-54mm f2.8-3.5 Standard Wide Zoom Lens and a new Lenovo Ideapad Y-510 laptop computer to store your photos and keep your journal.
Judges will select a winner based on their ability to photographically 'tell a story' about a place that they have visited in an original and compelling manner.
For full judging criteria and to apply, go to WorldNomads.com. Applications close June 30th.
In order to be eligible to enter, applicants must be at least 18, must be currently enrolled and actively studying at a recognised educational tertiary institution anywhere in the world, speak and write fluent English and hold a valid drivers licence.
In 2004 Jason Edwards was awarded the inaugural 'Pursuit of Excellence' Award by the Australian Geographic Society, "for his extreme efforts and absolute commitment to obtaining rare and amazing photographs."
Jason Edwards is a photographer with the National Geographic Society and is represented by the National Geographic Image Collection.
###