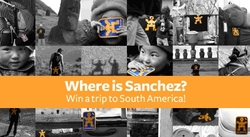 It's one of many programs WorldNomads.com runs in support of the independent travelling community, along with our annual travel scholarships and free iPod language guides
Sydney, Australia (PRWEB) March 10, 2008
Leading online travel insurance company, WorldNomads.com, is giving adventurous, independent travelers the chance to win a trip to South America by helping them find out "Where in the World is Sanchez?" And the answer to that could be just about anywhere with travelers encouraged to capture the company mascot's image in wild, wacky and remote places either on camera or video.
WorldNomads.com managing director, Simon Monk, says it's an interactive way of raising awareness of the brand, while offering travelers some great incentives along the way. "The major prize at the end of the year is an Intrepid Travel holiday to Peru from anywhere in the world, while there are also monthly prizes awarded for the most creative entries," says Simon. "So far, Sanchez has ended up in the mouth of a Nepalese baby, sunbathing on Bondi Beach and on a tightrope in New Zealand where one entrant morphed into Sanchez whilst slacklining! You can view some of the entries on our website at WorldNomads.com and while we don't have any stipulations on the content, some images have been a bit too cheeky for public display."
"Just like our tightrope walker, you may like to use your own body to represent our icon, say, on the top of Mount Everest, or you may wish to use our more conventional luggage tags and t-shirts to place Sanchez in the middle of your most exhilarating travelling moment captured on film," continues Simon.
Entrants must upload their photos to flicker.com and videos to YouTube.com and the major prize winner of the most creative Sanchez image will be flown from anywhere in the world to Peru for a 15 day Intrepid Travel Tour.
The winner will be announced November 10, 2008, but in the meantime monthly winners can pick up travel packs to keep them travelling safely, including an Eagle Creek backpack, Altrec medical kit , travel insurance and Lonely Planet guide book.
"It's one of many programs WorldNomads.com runs in support of the independent travelling community, along with our annual travel scholarships and free iPod language guides," says Simon.
Media Enquiries:
Simon Monk
Managing Director
World Nomads Group
+61 417 260 397
http://www.lonelyplanet.com
###