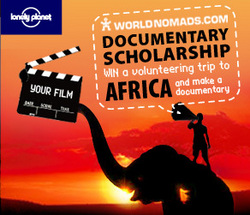 It's a tremendous opportunity to both learn from an experienced filmmaker, as well as contribute to the sustainability of a local community
(PRWEB) July 27, 2007

Sydney, AUS (PRWEB) June 27, 2007 -- World Nomads, the on-line travel services provider - in conjunction with Lonely Planet - has announced a Video Documentary Scholarship, the next in the series of World Nomads Travel Scholarships, and is calling for applications.
Under the mentorship of professional documentary producer, Trent O'Donnell, the winner of the scholarship will travel to Kenya as part of a World Expeditions community project travel trek, to help refurbish a remote primary school and to film their own short documentary on the experience. Trent O'Donnell's first film for World Nomads, Positive Footprints in Nepal can be viewed on YouTube.com.
The lucky scholarship recipient will also receive a travel video pack from Lonely Planet to shoot and edit their documentary, which will include a Sony HDR-HC5 video camera, professional mike, headphones, and Low Pro camera bag. It's an opportunity for the successful student to present their work to a wide global audience through featured presentation on the LonelyPlanet.tv website, as well as through World Nomads.
"It's a tremendous opportunity to both learn from an experienced filmmaker, as well as contribute to the sustainability of a local community " says Chris Noble , Global Marketing Manager, World Nomads.
The Kiwanje Ndege Primary School, in the Laikipia region of Kenya, provides an education for up to two hundred local children, however the school's facilities are in desperate need of repair. Over the four project days the group - including the scholarship winner - will be involved in the building of new desks and general refurbishment of the classroom facilities. They'll also assist in installing a water tank and guttering system which will allow the school to harness rainwater, a much needed commodity during the dry season. The final days of the trip will be a safari in the Samburu National Park, where the wildlife is both diverse and prolific.
The scholarship is open to film/video or communications students at recognised educational institutions, anywhere in the world. Applicants must be available to travel between September 9 and 16, 2007 - World Nomads will provide flights from the winner's home city.
And the catch? The winner will be required to shoot and edit a video documentary between five and 20 minutes in length on the theme of community project travel and the impact it has on both the local community and the travellers that participate. They will then upload it to the LonelyPlanet.tv website. They'll also be required to keep and upload a daily diary and pictures to the World Nomads blog site.
For further details on application requirements, visit the World Nomads website.
Media enquiries: Chris Noble, World Nomads, chris[at]worldnomads.com
###