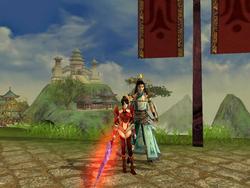 It's unusual to find a game that succeeds so well in combining different styles of gameplay together in such a huge, well balanced, and ultimately enjoyable package. It has been a great pleasure to oversee the production of this outstanding game
Shanghai, China (PRWEB) August 1, 2008
"World of Kung Fu" (WoKF), the martial arts online game from VestGame Entertainment has emerged from a successful open beta testing period and is now officially launched. A second server has been added to accommodate the new influx of players. The released version contains a multitude of new maps, quests, and enhancements to gameplay.
"The launch of World of Kung Fu into Western markets represents the culmination of many months of strenuous effort, and is a real milestone for VestGame. It's very satisfying to see so many new players enjoying the fruits of our labor," said Jonathan Seidenfeld, VestGame's Director of Business Development. The game has been averaging 700 to 1000 new registrations every day over the past several months.
WoKF allows players to master their own style of Kung Fu, then take part in the creation of a "Wulin", or classic Kung Fu society. As players perfect their skills, they can establish their own schools, and pass their knowledge along to others. Along the way they will undergo numerous tests and encounter ferocious enemies as they strive to become Kung Fu legends.
The astonishing 3D graphics in the game are inspired by the natural landscapes portrayed in traditional Chinese painting. The character art was drawn by the famous Japanese designer Senri Kita, best known for her work on Samurai Shodown, as well as other titles from SNK and Capcom. The awesome artwork and exceptional gameplay come together in a huge 3D virtual world for players to explore and ultimately, to master. The game allows player versus player combat as well as player versus environment. There are systems that allow full scale battles between different Kung Fu schools, and even between citizens of different countries.
"It's unusual to find a game that succeeds so well in combining different styles of gameplay together in such a huge, well balanced, and ultimately enjoyable package. It has been a great pleasure to oversee the production of this outstanding game," says David Clarke, the Producer of World of Kung Fu.
Although it is now officially released, there will still be regular updates designed to keep WoKF fresh, with new challenges adding depth and enhanced playability to the game going forward well into the future.
More detailed information about World of Kung Fu and its many unique features be found on the official World of Kung Fu website.
About VestGame Entertainment Inc.:
VestGame Entertainment is the North American publisher of "World of Kung Fu", a fully 3D massively multiplayer online game distinguished by its unique gameplay, beautiful graphics, and exotic storyline. VGE has offices in Shanghai and New Haven in the United States. More about the company can be found on the VestGame Entertainment website.
For much more information about the North American version of "World of Kung Fu" including tutorials, forums, screenshots and downloads, please visit the official World of Kung Fu website at http://www.worldofkungfu.com.
Contact:
Jonathan Seidenfeld
VestGame Entertainment Inc.
Jon @ vestgame.com
Tel: (203) 502-7053
###