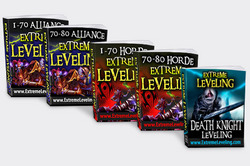 I have been playing World of Warcraft for quite a while, and the only truly informative guides that I have seen out there for the seasoned player are produced by ExtremeLeveling.Com. When I heard that they released one for the Wrath of the Lich King expansion, I was on top of it. I followed it on the Beta game, and found that it was easy to follow, and everything it said it would be and more
San Dimas, CA (PRWEB) December 20, 2008
ExtremeLeveling.Com has now released a level 1-80 WoW leveling guide for players of the ever-popular online game by Blizzard Entertainment, World of Warcraft. This WoW leveling guide was developed for the release of the widely anticipated expansion pack, Wrath of the Lich King.
WoW (also known as World of Warcraft), is one of the most played games on the internet today. With an estimated eleven million players widely anticipating the arrival of Wrath of the Lich King in stores set for November 13th, a need for a leveling guide for characters starting at level 70 and going to level 80 became quite evident. This is when ExtremeLeveling.Com put their team of crafted and talented players to work on the project.
ExtremeLeveling.Com sets the standard for all when it comes to providing content that exhibits quality and expertise for guides that are relevant to leveling, gold making, and more in World of Warcraft. Rated in a superior fashion by seasoned players of this massive online multiplayer role playing game, the customers that depend on ExtremeLeveling.Com for all their guides reported that they were not surprised by the speed and expertise delivered in the new leveling guide.
"I have been playing World of Warcraft for quite a while, and the only truly informative guides that I have seen out there for the seasoned player are produced by ExtremeLeveling.Com. When I heard that they released one for the Wrath of the Lich King expansion, I was on top of it. I followed it on the Beta game, and found that it was easy to follow, and everything it said it would be and more" said Angie Shiflett of Palatka, Florida. Reviews of this nature seem to be quite common among other individuals who have experience with the new World of Warcraft leveling guide.
Players who want to advance in their game play, figure out the most effective means of leveling that new Death Knight, or simply want to learn more information about the new zones, talents, skills, and abilities can benefit in numerous ways by implementing the use of a leveling guide. All too often, though, those that purchase online game guides for World of Warcraft find that they are disappointed because of the lack of truly valuable content.
ExtremeLeveling.Com offers truly valuable content in all of their guides. Best of all, they offer legitimate information that does not go against the Terms of Service from Blizzard Entertainment. No "cheats" or "hacks" are used to teach players how to level up their characters. This is why most prefer to use game guides by the company. They are detailed, legal, and do not jeopardize any account.
ExtremeLeveling.Com specializes in providing high quality gaming guides for World of Warcraft. Customers may find guides for leveling, advancing in a particular faction, gold making, and even for the new Wrath of the Lich King expansion!
For more information on Extreme Leveling, please visit Extreme Leveling
Contact:
Shawn Woods
http://www.extremeleveling.com
shawn@extremeleveling.com
###